The Shadow of War: Russia and the USSR, 1941 to the present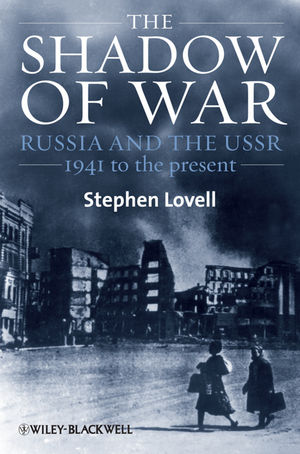 The Shadow of War: Russia and the USSR, 1941 to the present
ISBN: 978-1-444-35159-0 June 2011 Wiley-Blackwell 392 Pages
Description
Taking the achievements, ambiguities, and legacies of World War II as a point of departure,
The Shadow of War: The Soviet Union and Russia, 1941 to the Present
offers a fresh new approach to modern Soviet and Russian history.
Presents one of the only histories of the Soviet Union and Russia that begins with World War II and goes beyond the Soviet collapse through to the early twenty-first century
Innovative thematic arrangement and approach allows for insights that are missed in chronological histories
Draws on a wide range of sources and the very latest research on post-Soviet history, a rapidly developing field
Supported by further reading, bibliography, maps and illustrations.
Table of contents
List of Illustrations.
Series Editor's Preface.
Acknowledgments.
1. Introduction: World War II and the Remaking of the Soviet Union.
2. Reform, Reaction, Revolution.
3. From Plan to Market.
4. Structures of Society.
5. Public and Private.
6. Center and Periphery.
7. National Questions.
8. Geopolitical Imperatives.
9. From Isolationism to Globalization.
10. Conclusion: The Second Russian Revolution?
Notes.
Guide to Further Reading.
Index.
Reviews
"The book can also serve as an excellent first guide to most historiographical debates about the post-war Soviet Union."  (English Historical Review, 1 April 2014)
"But by re-arranging known phenomena his fascinating book offers new and consistent perspectives on the last Russian and Soviet decades. It is one of the best introductions to the focused period of time."  (Jahrbücher für Geschichte Osteuropas, 1 May 2013)
"With its capacity for engaging synthesis of the scholarly literature of the period and pioneering insight into historiographical commonplaces, Lovell's elegantly formulated and delightfully illustrated history is an indisputable asset to any scholarly bookshelf."  (Slavonica, 1 May 2013)
"Lovell, in particular, has written an accomplished and stimulating book."  (European History Quarterly, 2012)
"There are different ways to write a survey of Russian history, and most of them have been tried many times. Yet Simon Dixon, the editor of this excellent three-volume series, has invited his authors to do something new."  (Slavonic and East European Review, 1 April 2012)
"Stephen Lovell's The Shadow of War is a work of a different kind: a textbook which should appeal also to a general readership. It is both a social and political history and provides an excellent synthesis of the Russian experience from the Second World War to the present." (History Today, 1 August 2011)
"Shadow of War is an astute topical approach to Soviet/Russian history from 1941 to the beginnings of the Medvedev presidency in 2008. Its clarity and first-rate scholarship make it exceptionally enlightening on major socioeconomic and national conditions and post-Soviet matters generally." (Michigan War Studies Review, November 2010)