The Shift: The Transformation of Today's Marketers into Tomorrow's Growth Leaders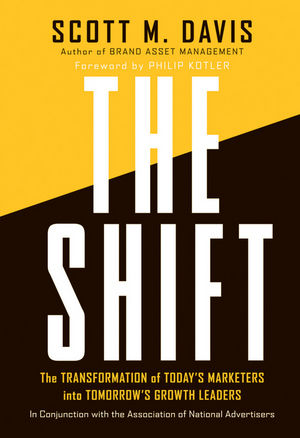 The Shift: The Transformation of Today's Marketers into Tomorrow's Growth Leaders
ISBN: 978-0-470-47339-9
Jun 2009, Jossey-Bass
272 pages
Description
Praise for The Shift
"More than ever, the role of marketing has to be to drive profitable growth by unlocking customer insights. The Shift provides inspiring examples of how leading marketers are getting it done."
–Cammie Dunaway, executive vice president of sales and marketing, Nintendo of America
"At Zappos.com we've always approached business in our own unique way. The Shift outlines many principles we holistically embrace. Kudos to Scott Davis for putting together such a great resource!"
–Tony Hsieh, CEO, Zappos.com
"The Shift is a great 'how-to book' for Visionary Marketers who want to stand out, help their company succeed by moving toward true accountability, and drive a business strategy that keeps the customer in mind, while never losing sight of the P&L."
–Fisk Johnson, chairman and CEO, SC Johnson
"The Shift's articulation of how marketing can drive a company's bottom line and a marketer's career makes it a must-read for any CEO who wants marketing to truly impact their company's bottom line."
–CJ Fraleigh, CEO, Sara Lee Retail and Foodservice
"Marketer as a P&L–oriented businessperson! This important book for senior executives provides a road map on how marketers and their organizations can shift their profiles, while driving bottom-line results."
–Mark L. Vachon, president and CEO, GE Healthcare, Americas
"The Shift charts a dramatic new role for marketing. A challenge every firm should embrace."
–David Aaker, vice chairman, Prophet; and, author, Brand Leadership
"The Shift has to become a way of life from the classroom to the boardroom. Davis's book brings a practitioner's perspective to this critical topic of marketers shifting to becoming more accountable and more personally responsible for driving growth."
–Dipak Jain, dean, Kellogg Graduate School of Management, Northwestern University
"Forget the CMO. Long live the integrated agenda of the Chief Growth and Visionary Officer!"
–Joseph V. Tripodi, chief marketing and commercial officer, The Coca Cola Company
Foreword
  (
Philip Kotler
).
Acknowledgments.
Preface: It's All About Growth.
Five Aspects of The Shift.
Why Should I Change? I'm Okay.
Building the Case for the Marketer as Growth Champion and Catalyst.
The Time Is Now.
Introduction: Preparing to Make The Shift.
Voices from the Front Line.
The Reason Most CEOs (Including Yours) Don't Shift.
If CEOs Do Not Want to Shift, How Can We?
Can You Shift? Look First at Your Marketing Organization Archetype.
Archetypes and Success Enablers Combine to Show the Best.
1 THE FIRST SHIFT: From Creating Marketing Strategies to Driving Business Impact.
Insights: Your Secret Weapon.
Power in a P&L Mind-Set.
Cementing the First Shift: Earning Organizational Credibility and Trust.
How to Set the Growth Agenda.
Aligning Business and Marketing Strategies.
Capturing the CEO's Imagination.
Visionary Marketers' Twelve Strategic Growth Topics.
Your Five-Step Plan to Victory.
Keeping the Dialogue on Track.
So, What Do I Do on Monday Morning?.
2 THE SECOND SHIFT: From Controlling the Message to Galvanizing Your Network (Written in collaboration with Andy Flynn).
The Network Era.
Thriving in the Network Era.
Network Touch Points.
So Why Isn't Everyone Galvanizing Their Network?
So, What Do I Do on Monday Morning?
3 THE THIRD SHIFT: From Incremental Improvements to Pervasive Innovation (Written in collaboration with Mitch Duckler).
Pervasive Innovation.
A Shift Toward Customer-Led Innovation.
What Visionary Marketers Can Learn from Model Innovators.
Fusing Visionary Marketing and Innovation.
So, What Do I Do on Monday Morning?
4 THE FOURTH SHIFT: From Managing Marketing Investments to Inspiring Marketing Excellence (Written in collaboration with Andy Pierce).
Marketing Excellence, Growth, and Accountability.
Why Marketing Must Change Now.
What the "Big M" Marketing Shift Requires.
Experimentation at the Core of Success.
A Few More Questions.
So, What Do I Do on Monday Morning?
5 THE FIFTH SHIFT: From an Operational Focus to a Relentless Customer Focus (Written in collaboration with Jeff Smith).
The Realities of a Relentless Focus on the Customer.
Start Working Inward from the Customer.
Inspire the Organization to Align Differently.
A Bottom-Up Transformation Approach: Making a Business Case to Relentlessly Focus on the Customer.
Visionary Marketers' Additional Transformational Igniters.
The Evolution of Brand Councils to Growth Councils for Organizational Transformations.
Organizational Transformation: Corporate Versus Business Unit, Centralized Versus Decentralized.
We're All in This Together.
So, What Do I Do on Monday Morning?
Afterword: Shifting Is Not Easy.
Bibliography.
Index.
"Begins a new dialogue in marketing" (
Hindu Business Line
,
May 28, 2009)
 "…outlines a marketer's 5-step plan to becoming a growth catalyst" (The Advertiser, July 1, 2009).
This book's goal is simple: to help re-wire the role and function of marketing to go beyond the expected (being a world class marketing organization), to the unexpected (shaping the company's growth agenda, influencing the actions of all customers, influencers and employees). 
 This book shows how to:
balance short term pressures to show results, while staying aligned with the enterprise's longer-term vision
drive innovation, while figuring out how to best align internal resources with external opportunities
navigate the never-ending array of media choices, both old and new, to reach customers in ways that are meaningful to its customers
operate and win in an increasingly complex global environment…as well as within an even more complex organizational environment (read: siloed and hierarchical).
win over critical internal stakeholders while shaping the opinions of Wall Street analysts.