The Silent Salesmen: Guaranteed Strategies for Increasing Sales and Profits Using Promotional Products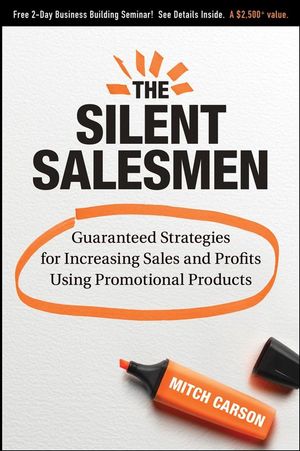 The Silent Salesmen: Guaranteed Strategies for Increasing Sales and Profits Using Promotional Products
ISBN: 978-0-470-47872-1
Feb 2009
304 pages
Description
How to create a successful promotional product campaign for any business
According to award-winning direct marketer Mitch Carson, business owners and marketers should understand the value of using promotional items for business growth, and how to create successful promotional product campaigns. In The Silent Salesmen, Carson introduces his proven, simple promotional product strategies that are guaranteed to increase sales and profits. Business owners and marketers will discover step-by-step tips on how to develop and implement a versatile marketing plan that encompasses ready-to-use samples of sales materials paired with unique and memorable promotional products. Combined, these tools will make for an extremely effective (and profitable) marketing message.
Foreword by Matt Furey.
Preface.
Making Promotional Products Work for You.
Benefits of Promotional Product Marketing.
Ready to Get Started?
Acknowledgments.
CHAPTER 1 The Potency of Promotional Products.
Your Customers Need You.
Psychology of Promotion.
Sales Promotion.
Public Relations.
Human Resources.
CHAPTER 2 Your Marketing Plan.
Current Situation.
Measurable Objectives.
Marketing Strategy.
Action Plan and Budget.
CHAPTER 3 Advertising.
Advertising Basics.
Sequential Mailings.
Direct Mail.
E-Mail Marketing.
Advertising.
Web Site Marketing.
CHAPTER 4 Trade Show Marketing.
Maximizing Trade Shows with Promotional Products.
Phases of Trade Show Marketing.
Before the Show.
At the Show.
After the Show.
CHAPTER 5 Sales Promotion.
Setting Objectives.
Duration.
Selecting Strategies.
Developing Tactics to Meet Objectives.
Putting the Promotion into Action.
Developing Goodwill.
Increasing Response Rates and Expenditure.
Types of Sales Promotions.
Reward the Promoters of the Promotion.
CHAPTER 6 Public Relations.
Promotional Products and Public Relations.
Public Relations Programs.
Sample Press Releases.
CHAPTER 7 Human Resources.
Psychology of Motivation.
Training.
Motivation and Morale.
CHAPTER 8 Tap into the Power.
CHAPTER 9 Silent Salesmen Workbook.
The New Reality.
Business Profile.
Focus on the Future.
Seven Emotional Appeals That Stimulate Action.
Identify Your Target Market.
Identify and Analyze Your Competition.
Entice Your Prospects to Contact You.
Identifying Your Unique Comparative Advantage.
Effective Marketing.
Getting More New Customers.
CHAPTER 10 Million-Dollar Case Studies.
Trash Can Mailer.
Newsletter Article Promotion.
X-Ray Mailer.
Sweet Mailer Program.
Sample Carpet Cleaning Promotion.
Sample Dentist Program.
Sample Realtor Program.
Sample Insurance Sequential Mailers.
Holiday Promotions.
Gemstone Promotions.
Anniversary Promotions.
Success Stories.
Glossary of Useful Terms.
Resource Guide.
Charities.
Demographic Data.
Direct Mail.
Industry Information.
Public Relations.
Trade Show Exhibits.
Special Offer.
Index.