The Six Success Factors for Children with Learning Disabilities: Ready-to-Use Activities to Help Kids with LD Succeed in School and in Life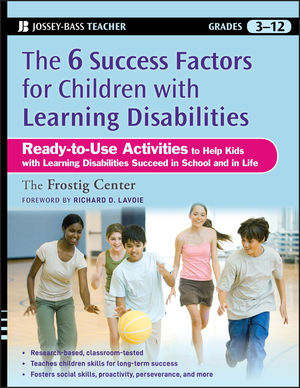 The Six Success Factors for Children with Learning Disabilities: Ready-to-Use Activities to Help Kids with LD Succeed in School and in Life
ISBN: 978-0-470-38377-3
Mar 2009, Jossey-Bass
232 pages
Description
Ready-to-Use Activities to Help Kids with Learning Disabilities Succeed in School and in Life
From the acclaimed Frostig Center comes a valuable resource for teachers and parents of children with learning disabilities. Based on a 20-year study, Frostig research has revealed six attributes that lead to long-term success for individuals with LD. This book helps teachers identify and encourage the growth of characteristics that will help students thrive in the classroom, at home, and in social situations. The book offers an array of classroom-tested,
engaging activities—complete with reproducible worksheets—that have been proven to foster the ""success attributes"" in children.
The six attributes identified by the Frostig Center are:
Self-awareness

Proactivity

Perseverance

Goal setting

Use of social support systems

Emotional coping strategies
Each of the book's activities contains a lesson plan with goals, materials, and procedures, including teaching instructions and reproducible student worksheets. The book is designed to be both flexible and easy-to-use. All activities can be modified to accommodate a variety of learners.
Praise for The 6 Success Factors for Children with Learning Disabilities
""Provides educators, parents, and other caregivers with pragmatic and measurable strategies to foster maturity and independence?The activities demonstrate that success is not amorphous and unattainable—rather, it can be achieved by adopting an established set of behaviors, attitudes, and characteristics. [This book] will be enormously useful as you prepare your students for their journey to adulthood."" —From the foreword by Richard D. Lavoie, bestselling author, It's So Much Work to be Your Friend and The Motivation Breakthrough
About This Book.
Foreword by Richard D. Lavoie.
About the Frostig Center.
The Contributors.
Acknowledgments.
Introduction.
Chapter 1: Self-Awareness.
Introduction to Self-Awareness.
Rating Yourself.
Check for Understanding Self-Awareness.
Describing Self.
Describing Likes and Dislikes.
Compare and Contrast Success Attributes.
I SeeMe, You See Me.
Check Out Sparktop.org.
Identify Favorite Activities.
Freaky Friday.
I Feel Good About Me.
Chapter 2: Proactivity.
Introduction to Proactivity.
Finding Help.
Unlock Closed Doors.
Ask the Experts.
Take Action.
Make the Solution Work for You.
How Most People Find Jobs.
Am I Ready to Be On My Own?
What Do I Know? What Must I Learn?
One Step at a Time.
Chapter 3: Perseverance.
Introduction to Perseverance.
Help by Example.
Dont Quit.
Help with Hanging in There.
Playing Games and Persevering.
Preseverance Award.
Work It Out! Hold On to That Job!
Occupations, Job Searching.
After-School Goals.
Long-Range Plans.
Chapter 4: Goal Setting.
Introduction to Goal Setting.
Plan a Party.
Shop 'til You Drop.
School Tour.
Book Report.
Criminal Investigation.
Where I Am and Where I Want to Be.
Road Map to Success.
Step-by-Step to Achievement.
What Do I Know About Me?
Chapter 5: Social Support Systems.
Introduction to the Use of Effective Social Support Systems.
Friendship Rating Scale.
Who You Gonna Call?
Strength in Numbers.
"And Seldom Is Heard . . .": Discouraging Words or Deeds.
Imagine Me, Imagine You.
Whats New?
Getting to Know You.
Human Helpers: Accommodations for School, Work, and Life.
Delightful Disclosure.
Delightful Disclosure Award.
Chapter 6: Emotional Coping Strategies.
Introduction to Emotional Coping Strategies.
Group Roles.
A Mile in Your Shoes.
First Steps.

What Helps?
How Does It Feel?
Do Something!
Name Your Bandages.
Help Me Cope.
Welcome, Stranger.
Appendix A: Resources for Fostering the Success Attributes.
Appendix B: Assessments.
References.
Index.