The SketchUp Workflow for Architecture: Modeling Buildings, Visualizing Design, and Creating Construction Documents with SketchUp Pro and LayOut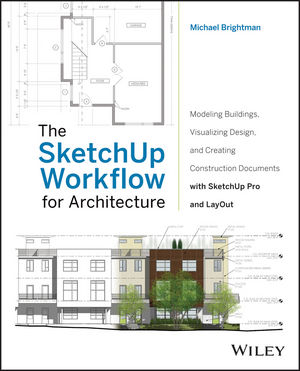 The SketchUp Workflow for Architecture: Modeling Buildings, Visualizing Design, and Creating Construction Documents with SketchUp Pro and LayOut
ISBN: 978-1-118-42131-4 March 2013 400 Pages
Download Product Flyer
Download Product Flyer
Download Product Flyer is to download PDF in new tab. This is a dummy description. Download Product Flyer is to download PDF in new tab. This is a dummy description. Download Product Flyer is to download PDF in new tab. This is a dummy description. Download Product Flyer is to download PDF in new tab. This is a dummy description.
Description
Incorporate SketchUp into every phase of your design
If you want to go beyond the basics and start using SketchUp 3D modeling software in all phases of your design, The SketchUp Workflow for Architecture is the perfect place to start. From preliminary schematics to construction documentation and everything in between, the book sketches out a workflow that is flexible enough to use from start to finish. You'll discover helpful techniques, smart tips, and best practices that will make your design process easier, as well as helping you easily export your models into BIM programs.
The book includes in-depth coverage of the lightly-documented LayOut toolset and video tutorials on more advanced methods.
Goes beyond the basics into intermediate and advanced techniques for architects, designers, and engineers who want to use SketchUp in all stages of design
Guides you from basic schematics through design development to construction documentation
Includes best practices for organizing projects and workflows and helpful tips
Provides special coverage of the LayOut toolset, an often-underused component of SketchUp Pro
The SketchUp Workflow for Architecture is a valuable addition to your design toolkit.
Table of contents
PART I: Starting the Flow 1
Chapter 1: Introduction 3
The Workflow 4
Who Should Read This Book? 5
What's in This Book? 6
What Are the Prerequisites? 7
Free SketchUp or SketchUp Pro? 8
Online Content 9
Mental Preparation 10
SketchUp Portfolio 10
Chapter Points 19
Chapter 2: Building Information Modeling 20
What Is BIM? 20
SketchUp and LayOut as BIM 22
Filling in the BIM Blanks 28
The SketchUp Outlook 31
Chapter Points 32
Chapter 3: Project Management 33
Folders and Files 33
Cloud Storage 45
Archiving 45
Chapter Points 48
PART II: SketchUp 49
Chapter 4: SketchUp Basics 51
Five Core Concepts 51
Leveraging SketchUp 53
Creating Geometry 56
Advanced Inferencing 78
Organizing Geometry with Containers 82
Section Planes 93
Layers, Styles, and Scenes 95
Chapter Points 102
Chapter 5: The Professional's SketchUp Template 104
Base Template 105
Model Info 105
Standard Layers 109
Styles 110
Utility Scenes 114
Chapter Points 122
Chapter 6: The Professional's SketchUp Environment 123
Toolbars 123
Dialogs 125
System Preferences 127
Chapter Points 131
Chapter 7: SketchUp
Collections 132
Material Collection 132
Component Collections 137
Styles Collection 140
Chapter Points 142
Chapter 8: Ruby Scripts 143
Find Ruby Scripts 143
Installing Ruby Scripts 143
Using Ruby Scripts 144
Recommended Ruby Scripts 144
Chapter Points 146
PART III: LayOut 147
Chapter 9: Introduction to LayOut 149
What Is LayOut? 149
Why LayOut? 155
Chapter Points 158
Chapter 10: The LayOut Interface 159
Getting Started 160
Main Toolbar 161
Document Setup 162
Preferences Window 169
Inspectors 177
Chapter Points 191
Chapter 11: The Professional's LayOut Environment 192
New Presentation 193
System Preferences 193
Custom Toolbars 197
Trays 199
Basic LayOut Template 201
Chapter Points 203
Chapter 12: LayOut Tools 204
Navigating LayOut 204
Drawing Tools 205
Annotation Tools 214
Modification Tools 220
Chapter Points 228
Chapter 13: LayOut Collections 229
Templates 229
Scrapbooks 235
Using Collections 248
Chapter Points 249
Chapter 14: Inserting Content 250
Working with SketchUp Models 250
Working with Images 254
Working with Text 256
Chapter Points 257
Part IV: The Architectural Design Process 259
Chapter 15: Site Analysis: Digital Site Survey 261
Geo-Location 263
Site Plan 267
Site Section 276
Final Drawings 278
Chapter Points 285
Chapter 16: Site Analysis: Building Context 286
The Project Site 286
Finding Nearby Buildings 289
Geo-Modeling 290
LayOut Diagrams 302
Chapter Points 303
Chapter 17: Site Analysis: Documenting an Existing Building 305
The Project 305
Recording Field Notes 312
The As-Built 3D Model 315
Working with Existing CAD Drawings 327
Chapter Points 327
Chapter 18: Schematic Design 328
Remodel Design 328
Project Types 330
Modeling Strategy 331
Objects 333
Exporting to CAD 335
Chapter Points 342
Chapter 19: Design Development Rendering 343
Populating a Scene 343
Rendering in SketchUp 346
Photorealistic Rendering 353
Chapter Points 356
Chapter 20: Construction Documents 357
Crucial Concepts for Documentation 357
Drawings 365
Annotations 379
Chapter Points 379
Index 381
Visit www.suexch.com for access to companion tutorial videos and other resources related to
the book.