The Small Business Success Guide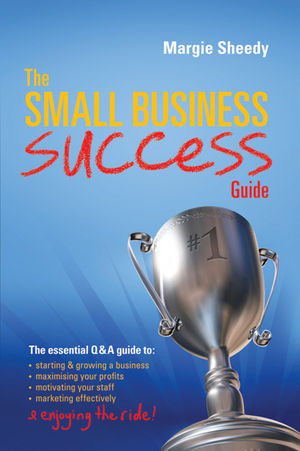 The Small Business Success Guide
ISBN: 978-1-742-16959-0
Dec 2010, Wrightbooks
400 pages
Description
Whether you're a budding entrepreneur or you already own a small business, The Small Business Success Guide will help you fast-track your business on the ride from good to great.
The Small Business Success Guide is brimming with practical ideas and proven strategies to make your small business a winner. Including inspiration and guidance from some of Australia's leading small business experts, this handy resource has the answers to turn your dream into a profitable reality.
Inside, you'll discover how to:
get your business foundations right
manage your people power
pump up sales and marketing volumes
use the web effectively
take the hard work out of accounting
nut out the legals and logistics.
About the author.
Acknowledgements.
Introduction.
Part I: getting the basics right.
1 What's the number one key to small business success?
2 I'm wearing so many hats: how do I keep it all in perspective?
3 Which ideas will make me the most money?
4 Which survival strategies will help my business through tough times?
5 What are my options when it comes to structuring my business?
6 What's the big deal about business plans when everyone seems to do well without them?
7 Where do I look for advice and how much will it cost?
8 Why do my clients think I'm the only one they can call?
Part II: business, BAS and banks.
9 Is there a way to make my accounts easier?
10 Why is cash flow my biggest stress?
11 Should my BAS be such hard work?
12 Am I the only one worried about a tax audit?
13 How can I keep a lid on all of my business expenses?
14 When is the best time to talk to the bank?
15 How much debt is it okay to have?
16 What about overdrafts and loans?
17 My family has put cash in to my business. How much should I tell them about the day-to-day business stuff?
18 Are government grants just an urban myth?
Part III: managing your people power.
19 Are there any tricks to hiring great people?
20 Why is firing someone such a drama?
21 How can I make my staff feel valuable, without paying them more?
22 Is there any real benefit to mentoring?
23 What's it worth paying other people to do?
Part IV: pump up the volume.
24 How do I develop a brand that will stand the test of time?
25 Should I ever reinvent my marketing message?
26 What's the best way to look big without letting on that I'm a small fry?
27 How do I do market research that means something?
28 How do I find new customers?
29 What about online?
30 Can internet fads such as Twitter and Facebook make me money?
31 I spend so much on advertising, so where are the results?
32 Where can I go when the sales go slow?
33 How beneficial is networking?
Part V: nutting out the legals and logistics.
34 Should I buy or rent my premises?
35 Where do I start with OH&S issues?
36 So many insurances seem like a waste of money. Are they?
37 Will a workers' compensation claim affect my business?
38 Exactly what are my superannuation obligations, and are there any shortcuts?
39 Is going green something that's going to benefit my business?
40 What are fair trading laws and how do they apply to me?
41 How do I resolve disputes and protect my small business legally?
42 What do I need to know about e-security?
Part VI: growing, growing, gone?
43 Business is going gang busters: when is the best time to expand?
44 How much money should I throw into growing my business?
45 I'm thinking about export: what do I need to know before I go?
46 Is franchising an option that I should consider?
47 I get on well with my customers: should I mix business with pleasure?
48 With all this extra work, will my family ever see me?
49 I won't be able to do this forever: how do I start a succession plan?
50 I'm seriously thinking about selling my business. Is there a 'best time'?
Appendix: writing a business plan.
Glossary.
Useful websites.
Index.