The Small-Cap Investor: Secrets to Winning Big with Small-Cap Stocks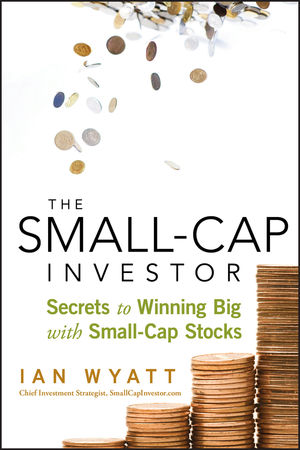 The Small-Cap Investor: Secrets to Winning Big with Small-Cap Stocks
ISBN: 978-0-470-40526-0
Sep 2009
192 pages
Description
Praise for THE SMALL-CAP INVESTOR
"The great rewards of investing in the best small-cap companies are matched only by the risks of investing in the worst. Ian Wyatt is one of the few who not only shows you how to find the hidden gems, but also how to avoid the flea-ridden dogs. His new book is a must-read for all small-cap investors, especially in today's turbulent times."
—Martin D. Weiss, author of the New York Times bestseller The Ultimate Depression Survival Guide
"Small-cap stocks are now the best source of wealth-building because there is now little to zero research on them—use Ian's stock discovery methods and find the ten-bagger innovative companies underneath Wall Street's radar."
—Tobin Smith, founder of ChangeWave Research and costar of the Fox News show Bulls & Bears
"I love small-cap stocks. Why invest for 10% returns when you can find ten-baggers? But no one said it was easy. There are a kazillion names and every one of them sounds like a winner. Ian Wyatt, in his very informative book, The Small-Cap Investor, shows you how to find them, analyze them, and ride them for all they're worth."
—Andy Kessler, New York Times columnist and bestselling author of Running Money and Wall Street Meat
"Ian has written the essential guide for anybody who wants to understand how to make big money in the stock market. His eight-step program shows how to identify and invest in the small companies that will become tomorrow's mega-winners."
—Michael Moe, cofounder and CEO of NeXt Asset Management and author of Finding the Next Starbucks
"The one area of the entire financial markets where the individual investor can actually have an edge on the institutional investor is small-cap stocks. Ian Wyatt's book, The Small-Cap Investor, is your field manual for big profits. His strategies could help you find the big winners of tomorrow, perhaps even the next Cisco, Dell, Microsoft, or Wal-Mart."
—Dr. Stephen Leeb, editor of The Complete Investor and author of The Coming Economic Collapse: How You Can Thrive When Oil Costs $200 a Barrel
Acknowledgments.
INTRODUCTION The Story of a Small-Cap Investor.
CHAPTER 1 Start Small, Finish Big—Discover Big Profits in Small-Cap Stocks.
Small-Cap Investor: Eight-Step Process for Big Profits from Small Stocks.
Small Caps as Generators of Growth.
An Example of Small-Cap Success.
Small-Cap Value Stocks Outperform Large-Cap Growth Stocks.
Profitable Small Caps Don't Always Make Gains on Day One.
The Inefficient Market Theory: The Small-Cap Advantage.
The Market as an Emotional Being.
CHAPTER 2 Big Ideas for Big Profits.
Spotting the Next Big Idea.
Expanding Your Search.
The Competitive Edge.
Spotting Institutional Activity.
CHAPTER 3 Finding Great Small-Cap Stocks.
Growth + Value = Profits.
Success Stories from the Past.
IPOs Are the Genesis of Small Caps.
Spotting Growth Sector Trends.
News You Can Use.
You've Found an Interesting Trend or Company—Now What?
CHAPTER 4 Understanding and Evaluating Financial Statements.
Generally Accepted Accounting Principles and the Basics of Accrual Accounting.
Financial Statements Made Simple.
Ten Key Metrics to Review in Every Financial Statement.
What Exactly Are Earnings?
A Quality Test: Cash Flow Instead of Earnings.
Ten Accounting Red Flags.
CHAPTER 5 Financial Projections and Valuations.
Understanding Financial Guidance.
A Reality Check.
Guidance Caveats.
Interpreting Analyst Estimates.
Companies Play the Earnings Game.
Financial Trends for Spotting Promising Small Caps.
CHAPTER 6 Taking the Mystery Out of Technical Analysis and Trading for Quick Profits.
Some Technical Basics.
Accumulation and Distribution.
The Relative Price of a Stock.
CHAPTER 7 Trading Strategies for Successfully Buying and Selling Small-Cap Stocks.
Liquidity Considerations with Small-Cap Investing.
Risk Tolerance.
Risk Awareness, an Essential Attribute.
Timing Decisions.
Trading Techniques.
CHAPTER 8 Portfolio Diversification and Allocation.
Equity Diversification Methods.
Diversification Mistakes.
Overdiversification.
Using Mutual Funds and ETFs to Diversify.
Risk Tolerance as a Means for Diversifying Your Portfolio.
Asset Allocation Basics.
CHAPTER 9 Buy Small Caps to Grow Your Portfolio.
A Track Record of Small-Cap Success.
The Key Drivers to Growth.
Early Bird Gets the Worm.
Appendix.
Notes.
About the Author.
Index.