The Small Screen: How Television Equips Us to Live in the Information Age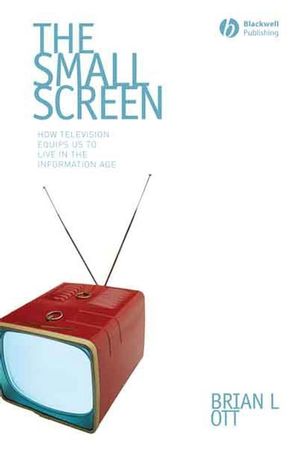 The Small Screen: How Television Equips Us to Live in the Information Age
ISBN: 978-0-470-76637-8
Apr 2008, Wiley-Blackwell
216 pages
Description
Television is one of the most important socializing forces in contemporary culture. This book is a cultural history of prime-time television in America during the 1990s.



Examines changes that took place in programming, such as the rapid adoption of cable, the proliferation of content providers, the development of niche marketing, the introduction of high-definition television, the blurring of traditional genres, and the creation of new formats like reality-based programming

Argues that television programmes of the 1990s afforded viewers a symbolic resource for negotiating the psychological challenges associated with the shift from the Industrial Age to the Information Age

Explores the ways in which television provided viewers with tools for coming to terms with their fears about living in the fast-paced , increasingly diverse, information-laden society of the 90s
Contents.
Preface.
1. Television and Social Change.
The Times They Are a-Changin'.
Television as Public Discourse.
2. Life in the Information Age.
The Information Explosion.
Society through the Lens of Technocapitalism.
Social Anxieties in the Information Age.
3. Hyperconscious Television.
Embracing 'the Future': The Attitude of Yes.
The Simpsons as Exemplar.
Symbolic Equipments in Hyperconscious TV.
4. Nostalgia Television.
Celebrating 'the Past': The Attitude of No.
Dr. Quinn, Medicine Woman as Exemplar.
Symbolic Equipments in Nostalgia TV.
5. Television and the Future.
(Re)Viewing the Small Screen.
Life and Television in the Twenty-First Century.
The Next Great Paradigm Shift?.
References.
Index
"In
The Small Screen
, Brian L. Ott explores how US television of the 1990s met the Information Age. With theoretical clarity and acute critical analysis of content and form in the television experience, Ott illustrates how some Americans embraced the future through hyperconscious television while others celebrated the past through nostalgia. A breakthrough study."
Thomas W. Benson, Pennsylvania State University<!--end-->
"Brian L. Ott's book is accessible to students and valuable for professional scholars. It integrates a wide range of contemporary scholarship at a high level of sophistication without ever falling into jargon or postmodern dogma. This volume will be cutting edge in the rhetorical study of television."
Barry Brummett, University of Texas-Austin

"...ultimately what is pleasing about Ott's book is its willingness to take television seriously…"
M/C Reviews

"Ott…hints at the coming identity crisis as the connected age replaces the information age. Summing Up: Recommended."
Choice

"Ott's distinctions between hyperconscious and nostalgic programming serve as fine distinctions for considering the cultural significance of television."
PsycCritiques


A cultural history of prime time American television during the 1990s, a period in which television underwent several dramatic changes

Examines changes that took place in programming, such as the rapid adoption of cable, the proliferation of content providers, the development of niche marketing, the introduction of high-definition television, the blurring of traditional genres, and the creation of new formats like reality-based programming

Argues that television programmes of the 1990s afforded viewers a symbolic resource for negotiating the psychological challenges associated with the shift from the Industrial Age to the Information Age

Explores the ways in which television provided viewers with tools for coming to terms with their fears about living in the fast-paced, increasingly diverse, information-laden society of the 90s