The Smart Canadian's Guide to Saving Money: Pat Foran is On Your Side, Helping You to Stop Wasting Money, Start Saving It, and Build Your Wealth, 2nd Edition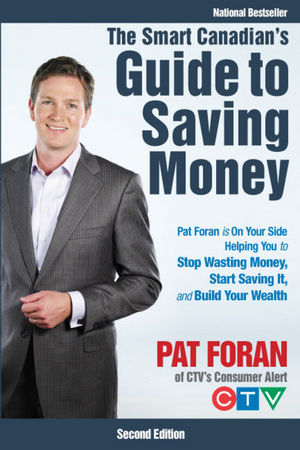 The Smart Canadian's Guide to Saving Money: Pat Foran is On Your Side, Helping You to Stop Wasting Money, Start Saving It, and Build Your Wealth, 2nd Edition
ISBN: 978-0-470-73874-0
Mar 2010
288 pages
Product not available for purchase
Description
Canada's top consumer advocate returns with more financial advice.
Canadian consumers are focused on spending and managing what money they do have wisely, but have more questions than answers on most financial topics. Television personality and consumer advocate Pat Foran shares tips and strategies about the questions and issues he sees most often, and explains how some little things can soon add up to a lot of money. Some of the topics covered include: 
Credit and loyalty cards, and what kind of deal they really are
How much insurance is enough – and what kinds do most people need?
How to shop for a vehicle, and if it's worth it to import from the US
Mortgages, tax breaks, and other complicated financial decisions
Getting the most bang for your buck, whether while shopping or travelling
Packed with money-saving advice, this title will also include the latest information on marketplace trends, the investment climate, housing prices, interest rates, and other techniques for savings. As an added bonus, Pat has included quotes and comments from prominent Canadian businesspeople and celebrities about the best financial advice they've received in their lifetimes.
Pat Foran is seen by millions of Canadians each week as the Consumer Reporter for CFTO News, and Consumer Expert on CTV's Canada AM. His "Consumer Alert" segment is currently on CFTO's noon, six o'clock and eleven-thirty newscasts, five days a week with an audience of 700,000 viewers, and he appears on Canada AM, Canada's number-one national morning show every week, dispensing financial and consumer advice.
Acknowledgements.
1 Confronting the Debt Challenge.
2 Taking Wisdom from Successful Canadians.
3 Checking In with the Wealthy Barber.
4 Living Next Door to a Millionaire.
5 Finding Out What Makes Canadian Millionaires Tick.
6 Asking Experts What the Economic Future Holds.
7 What We Learned from Black October 2008.
8 Keeping Calm During Troubled Times.
9 Calculating Your Financial Worth.
10 Monitoring Your Expenses.
11 Seeing Marriage as a Partnership.
12 Should you sign a Prenup?
13 Setting Goals.
Part 1: Reducing Debt.
14 Attending Credit Counselling.
15 Consolidating Debt.
16 Curbing Bad Spending Habits.
17 Differentiating Good Debt from Bad Debt.
18 Establishing an Emergency Fund.
19 Hopping from Credit Card to Credit Card.
20 Bidding Farewell to Your Credit Cards.
21 Obtaining Your Credit Score and Credit Report.
22 Dealing with Collection Agencies.
23 Steering Clear of Payday Loan Services.
24 Declaring Bankruptcy.
25 Avoiding Credit Repair Agencies.
Part 2: Saving Money.
26 Tax Savings: New Rules Can Save You Money.
27 The Tax-Free Savings Account.
28 Understanding Interest Rates.
29 Choosing the Right Credit Card.
30 Getting the Best Car Insurance.
31 Buying Life and Disability Insurance.
32 Doing Your Income Taxes.
33 Hitting the Sweet Spot.
34 Trimming the Grocery Bill.
35 Click, Click, Save, Save: Using the Internet to Save Money.
36 Renting to Own.
37 Keeping Cash Register Scanners Honest.
38 Refusing Extended Warranties.
39 Unearthing Unclaimed Balances.
Part 3: Planning for Wealth.
40 Partnering with Financial Advisers.
41 Choosing a Lawyer.
42 Preparing a Will.
Part 4: Investing Wisely and Building Wealth.
43 Investing à la Andrew Cook.
44 Taking Part in Day Trading.
45 Minimizing Pricey Fees for Funds.
46 Benefiting from RRSPs.
47 Debunking Financial Myths.
48 Setting Up RESPs.
49 Participating in Company Stock Purchase Plans.
50 Owning (Not Renting) Your Home.
51 The 35-Year Mortgage—Why You Should Avoid It.
52 Managing Your Mortgage.
53 Breaking Your Mortgage.
54 Considering Reverse Mortgages.
55 Using the Equity in Your Home to Buy Real Estate.
56 Purchasing a Cottage or Chalet.
57 Taking Steps Toward Effective Home and Tenant Insurance.
58 Renovating Your Home.
59 Dodging Home Renovation Rip-Offs.
60 Selling Your Home.
61 Earning Money at Home.
62 Thinking Seriously About Cars.
63 Buying a Car in the U.S.
64 Buying a New Car.
65 Financing at 0%.
66 Leasing a Vehicle.
67 Buying a Used Car—""Nearly New"".
68 Buying a Used Car—Four Years Old or Older.
69 Looking Out for Scams When Car Buying.
70 Asking for a Raise.
71 Changing Careers.
72 Giving to Charity.
Index.