The Social Control of Cities?: A Comparative Perspective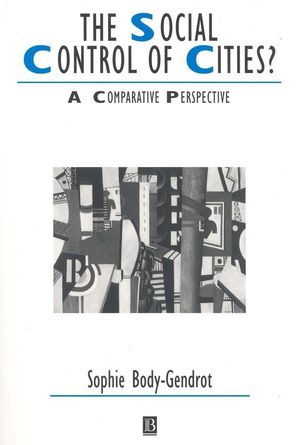 The Social Control of Cities?: A Comparative Perspective
ISBN: 978-1-444-39920-2 July 2011 Wiley-Blackwell 328 Pages
Description
In this ground-breaking study, Sophie Body-Gendrot provides a comparative analysis of the growing problem of new forms of poverty and social marginalisation in contemporary advanced societies.
List of Figures.
List of Tables.
Foreword.
Series Preface.
Acknowledgements.
Introductions: Tolerance and Suppression..
Part I: The Politics of Depacification.
Economic Globalization and Urban Unrest.
Law-Enforcement in the USA.
Solidarity and Social Prevention in France..
Part II. The Politics of Reconciliation.
Managing Polarization: New York and Chicago.
Managing Polarization: Paris, Marseilles, and Lyons.
Conclusion: The Social Control of Cities?.
References.
Index.
"This book is extremely important for anyone interested in crime and violence in urban areas. The author situates urban violence and responses to it within the larger processes of globalization and of growth of inequalitites within and between societies. By using case studies of different cities in different countries--US, Britain, and Frnace--she examines the impact of global, national, and local policies and economic trends on various cities' responses to crime and violence."
Choice
<!--end-->
"This is a well-documented and perceptive study." David Downes, London School of Economics, UK

"... does a creditable job of demonstrating both historically and comparatively, how cities within the limits of distinct national traditions are actually extraordinarily diverse and yet extremely limited in the ways they manage social control." Canadian Journal of Sociology Online

'This comprehensive cross-cultural study of urban tensions and insecurities in an era of globalization is a major contribution to the literature on changing western cities. Sophie Body-Gendrot's original synthesis of a wide range of urban studies provides new insights on the dynamic changes in modern urban life." – William Julius Wilson, Lewis P. and Linda L. Geyser University Professor, Harvard University<!--end-->


Contemporary advanced societies.


Informed by extensive fieldwork, including interviews with mayors, judges, police officers, community leaders and grass-roots organizations.


Draws from a wide variety of disciplines including political sociology and history and links urban studies to broader questions regarding the criminology of exclusion.