The Social Work and Human Services Treatment Planner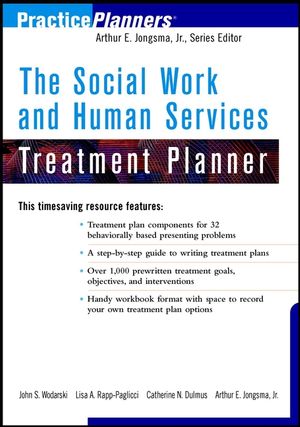 The Social Work and Human Services Treatment Planner
ISBN: 978-0-471-37741-2
Jan 2001
208 pages
Product not available for purchase
Description
The Social Work and Human Services Treatment Planner provides all the elements necessary to quickly and easily develop formal treatment plans that satisfy the demands of HMOs, managed care companies, third-party payers, and state and federal review agencies.
Saves you hours of time-consuming paperwork, yet offers the freedom to develop customized treatment plans to address clients' psychological and environmental problems and issues
Organized around 32 main presenting problems, from family violence and juvenile delinquency to homelessness, chemical dependence, physical/cognitive disability, sexual abuse, and more
Over 1,000 well-crafted, clear statements describe the behavioral manifestations of each relational problem, long-term goals, short-term objectives, and clinically tested treatment options
Easy-to-use reference format helps locate treatment plan components by behavioral problem or DSM-IV(TM) diagnosis
Includes a sample treatment plan that conforms to the requirements of most third-party payers and accrediting agencies (including JCAHO and NCQA)
Alcohol Abuse/Dependence.

Assaultive Behavior.

Assault Victim.

Child Physical/Verbal Abuse.

Drug Abuse/Dependence.

Employment Conflicts.

Family Conflict.

Foster Care Maladjustment (Child).

Homelessness.

Housing Inadequacies.

Juvenile Delinquency.

Juvenile Runaway.

Legal Involvement.

Murder Victim's Family.

Negative Peer Group (Adolescent).

Neglect of Child.

Nutritional Risk/Food Insecurity.

Older Adult Abuse.

Older Adult Isolation.

Older Adult Residential Adjustment.

Partner Abuse.

Physical/Cognitive Disability.

Poverty.

Prostitution.

Psychosis.

Rape Victim.

Sexual Abuse Perpetrator.

Sexual Abuse Victim (Child).

Suicide Attempt.

Suicide Victim's Family.

Teen Pregnancy.

Truancy.