The Sociology of Consumption: A Global Approach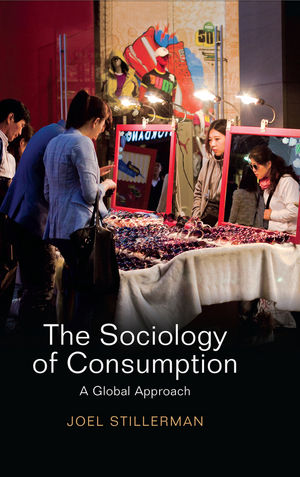 The Sociology of Consumption: A Global Approach
ISBN: 978-0-745-66127-8 June 2015 Polity 224 Pages
Download Product Flyer
Download Product Flyer
Download Product Flyer is to download PDF in new tab. This is a dummy description. Download Product Flyer is to download PDF in new tab. This is a dummy description. Download Product Flyer is to download PDF in new tab. This is a dummy description. Download Product Flyer is to download PDF in new tab. This is a dummy description.
Description
The Sociology of Consumption: A Global Approach offers college students, scholars, and interested readers a state-of-the-art overview of consumption the desire for, purchase, use, display, exchange, and disposal of goods and services.

The book's global focus, emphasis on social inequality, and analysis of consumer citizenship offer a timely, exciting, and original approach to the topic. Looking beyond the U.S. and Europe, Stillerman engages examples from his and others' research in Chile and other Latin American countries, Europe, the Middle East, Africa, and East and South Asia to explore the interaction between global and local forces in consumption. The text explores the lived experience of being a consumer, demonstrating how social inequalities based on class, gender, sexuality, race, and age shape consumer practices and identities. Finally, the book uncovers the important role consumption has played in fueling local and international activism.

This welcome new book will be ideal for classes on consumer culture across the social sciences, humanities, and marketing.
Table of contents
1: Introduction
2: Marketing and Retail from the Modern Period until the Postwar Era of Mass Consumption
3: Market Fragmentation and Globalization
4: Consumption, Status, and Class
5: Gender and Race at the Margins and Center of Consumption
6: The Life Course
7: Consumer Citizenship and the Nation-State
8: Consumer Citizenship in the Era of Globalization
9: Conclusion
Reviews
"With impressive scope and fascinating examples,
The Sociology of Consumption
offers the first major overview of the field. Stillerman expertly guides readers through the global world of consumption, pointing to major theories and incorporating the newest investigations. A welcome contribution to economic sociology, the book will also attract a broader audience interested in understanding how consumption works."
Viviana A. Zelizer, Princeton University
"Joel Stillerman presents consumption as a multidimensional field of power and expression, where men and women make difficult choices in a world of things, and the rest of us struggle to discover what these choices mean to our own and – society's – well-being. This very useful book joins a broad global framework to a rich array of empirical studies to show how consumer citizenship is formed."
Sharon Zukin, Brooklyn College and City University New York
"I'd highly recommend it for a class or a good overview of what is, due to the work of Stillerman and others, becoming a field of its own."
Social Forces
"Clearly and effectively written… As a summary of sociological research and sociological analysis of consumption it is a highly commendable text."
The British Journal of Sociology
"Stillerman shines in making an overall argument that consumption helps produce power relations, while also being informed by them. In less than 200 pages, Stillerman moves quickly through a broad literature that specifies these politics, summarizing seemingly complex work with clarity and concise writing. […] This is a significant achievement, insofar as it emphasizes consumption as a highly charged social justice issue with historical roots and continued relevance today."
AAG Review of Books


"
The Sociology of Consumption: A Global Approach
gives a very comprehensive account of the ways that consumption has changed across time, and as a result of societal changes and globalization. […An] excellent resource."
Cultural Sociology


"Over the last ten years, only a few textbooks have been published for students of consumer culture […]. As its title suggests, Joel Stillerman's
The Sociology of Consumption – A Global Approach
(2015) commits to exploring the sociology of consumption from a global perspective. […] Additionally, consumption is approached in this work in particular from the perspectives of inequality and consumer-citizenship. […] This book will no doubt serve well for teaching purposes, and by virtue of its simple language and clear structure it is well-suited as course material, even for undergraduates who are not all that familiar with reading texts in English."
Sosiologia

"[A] highly welcomed contribution to anyone interested in an overview of the sociological understanding of modern consumption[. …] This volume does not only offer a refreshing compilation of major theories and current investigations in the area but also features three distinctive aspects which have been absent from similar efforts. First, Stillerman engages with consumption in a globalized context […].Second, the book challenges the common view of consumers as White middle-class citizens of the global north and explores consumers across broader inequalities, including race, sexuality, religion and age. Third, the author's approach to consumption considers its role as political. […I]t has the potential of becoming an essential text in any under- or postgraduate course on consumption."
Journal of Consumer Culture