The Sociology of Health Inequalities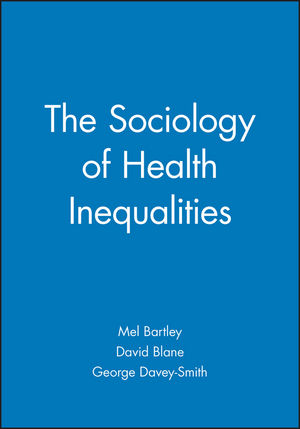 The Sociology of Health Inequalities
ISBN: 978-0-631-20929-4 July 2000 Wiley-Blackwell 236 Pages
Description
Leading researchers in the social sciences describe and explain the unequal chances of long and healthy life between social groups, ethnic groups, men and women and geographical areas.
Table of contents
Introduction.
Beyond the Black Report: Mel Bartley (International Center for Health and Society), David Blane (Imperial School of Science Technology and Medicine), and George Davey Smith (Bristol University Medical School).
Part I: Understanding the social dynamics of health inequalities:.
1. Mortality, the social environment, crime and violence: Richard G. Wilkinson (University of Sussex), Ichiro Kawachi (Harvard School of Public Health) and Bruce Kennedy (Harvard School of Public Health).
2. The psycho-social perspective on social inequalities in health: Jon Ivar Elstad (Norwegian Social Research).
3. Theorizing inequalities in health: the place of lay knowledge: Jennie Popay (University of Salford), Gareth Williams (University of Salford), Carol Thomas (University of Lancaster).
4. Is there a place for geography in the analysis of health inequality?: Sarah Curtis and Ian Rees Jones (Queen Mary and Westfield College, University of London).
Part II: Social and spatial inequalities in health:.
5. Gender and disadvantage in health: men's health for a change: Elaine Cameron (University of Wolverhampton).
6. Changing the map: health in Britain 1951 - 1991: Mary Shaw, Danny Dorling and Nic Brimblecombe (University of Bristol).
7. Genetic, cultural or socio-economic vulnerability? Explaining ethnic inequalities in health: James Nazroo (Policy Studies Institute, London).
8. Mortgage debt, insecure home ownership and health: an exploratory analysis: Sarah Nettleton and Roger Burrows (University of York).
9. A lifecourse perspective on socio-economic inequalities in health: H. Dike van de Mheen, Karien Stronks and Johann P. Mackenback (University of Rotterdam).
Notes on Contributors.
Index.
Reviews
"The editors and the authors are to be congratulated on making the individual parts and the whole interesting, readable and coherent."
International Journal of Epidemiology 1999
"The Sociology of Health and Illness tackles health inequality with the overarching goal of linking medicine and social science. The social dynamics of health inequalities and social and spatial inequities in health are assessed. Contributors address morality, crime, psychological perspectives, lay knowledge, the utility of geography, sex differences, genetic and ethnic differences and economic factors." Sociological Abstracts , 2000