The Sociology of News, 2nd Edition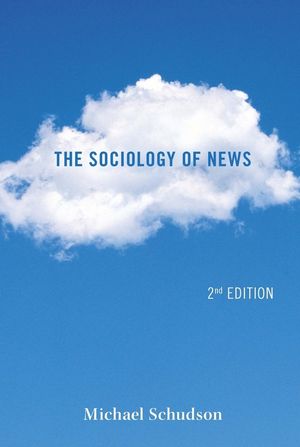 The Sociology of News, 2nd Edition
ISBN: 978-0-393-91287-6
*Norton agency titles
320 pages
Product not available for purchase
Description
A personal, trenchant, and comprehensive account of the contemporary news media.



The Sociology of News reviews and synthesizes not only what is happening to journalism but also what is happening to the scholarly understanding of journalism. In the Second Edition, each chapter of the book has been updated to account for the radical changes that have reshaped the news industry over the last decade. With a new chapter on the sharp contraction of the news business in the United States since 2007, The Sociology of News examines journalism as a social institution and analyzes the variety of forces and factors-economic, technological, political, cultural, organizational-that shape the news media today.
Introduction: Making News
Part I: Journalism Now
Chapter One: Defining Journalism
Chapter Two: Does News Matter?
Chapter Three: Media Bias
Chapter Four: Where News Came From: The History of Journalism to Watergate
Chapter Five: In Recent Memory: News from Watergate to the Web
Part II: The Components of News-Making
Chapter Six: News in the Marketplace
Chapter Seven: News Sources
Chapter Eight: The Political Culture of News
Chapter Nine: The Audience for News
Chapter Ten: News as Literature and Narrative
Part III: The News and Society
Chapter Eleven: Law, Democracy, and News
Chapter Twelve: News Revolutions, Digital and Global.
The only sociological introduction to the news
 Schudson synthesizes research from sociology, political science, economics, journalism studies, and communications in this brief, authoritative introduction to the news media's role in society. The Sociology of News makes a seminal contribution to the sociological understanding of the role that news institutions play in the formation of modern public consciousness.
Completely updated, including a new chapter on the news industry in the age of the Internet and globalization
When the First Edition of The Sociology of News was published in 2003, Craigslist, Facebook, Google, online-only news organizations, and TV shows like The Daily Show either did not exist or were in their earliest stages. In the new edition of his book, Michael Schudson accounts for the transformative impact these things have had on the news industry. He also includes a new chapter, "News Revolutions, Digital and Global," which explores the sharp contraction of the news business since 2007.