The Sociology of Social Change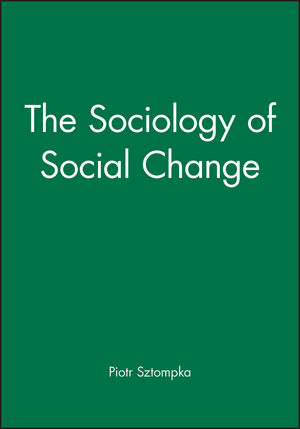 The Sociology of Social Change
ISBN: 978-0-631-18206-1
Dec 1993, Wiley-Blackwell
368 pages
Description
The sociology of social change has always been the product of times of flux, and the unmatched dynamism of our period is already reflected in the revitalization of theories of change. Piotr Sztompka's aim in this volume is to take stock of and to reappraise the whole legacy of sociological thinking about change, from the classical to the contemporary, providing the intellectual tools necessary for a critical and rational grasp of our own turbulent times.
Intended primarily as an advanced textbook for upper-division and graduate students, as well as researchers, this book covers the four grand visions of social and historical change which have dominated the field since the 19th century: the evolutionary, the cyclical, the dialectical, and the post-developmentalist. In so doing, it provides indispensable analytic discussions of the concepts focal to contemporary debates such as social process, development, progress, social time, historical tradition, modernity, post-modernity , and globalization.
Preface.
Part I: Concepts and Categories:.
1. Fundamental Concepts in the Study of Change.
2. Vicissitudes of the Idea of Progress.
3. Temporal Dimension of Society: Social Time.
4. Modalities of Historical Tradition.
5. Modernity and Beyond.
6. Globalization of Human Society.
Part II: Three Grand Visions of History:.
7. Classical Evolutionism.
8. Neo-evolutionism.
9. Theories of Modernization: Old and New.
10. Theories of Historical Cycles.
11. Historical Materialism.
Part III: Alternative Vision: Making History:.
12. Against Developmentalism: Modern Critique.
13. History as a Human Product: Evolving Theory of Agency.
14. New Historical Sociology: Concreteness and Contingenc.
15. Social Becoming: the Essence of Historical Change.
Part IV: Aspects of Social Becoming:.
16. Ideas as Historical Forces.
17. Normative Emergence: Evasions and Innovations.
18. Great Individuals as Agents of Change.
19. Social Movements as Forces of Change.
20. Revolutions: the Peak of Social Change.
Bibliography
"Piotr Sztompka's book on social change is at once a masterful textbook, a comprehensive encyclopedia of theoretical approaches and an innovative contribution to the field. This book by the prominent Polish sociologist will certainly change sociologists' and historians' view on social change."
Prof Dr Hans Joas, Freie Universitat Berlin
"I can think of no sociologist with more scope and sense of balance than Piotr Sztompka. The Sociology of Social Change gives remarkable evidence of both qualities. It covers the field thoroughly and well; it has to be the authoritative treatment of the subject. Moreover, it balances breadth and depth, objective reporting with critical interpretation, and others' ideas with Sztompka's own. This volume is simultaneously an original and synthetic contribution to our thinking about social change." Neil J. Smelser, University of California, Berkeley
* The first comprehensive survey of a key area of contemporary sociology.
* The author is respected worldwide as a leading authority in the field.
* Carefully structured and clearly written.