The Sociology of the Family: A Reader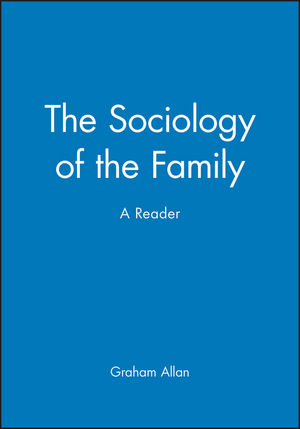 The Sociology of the Family: A Reader
ISBN: 978-0-631-20268-4 June 1999 Wiley-Blackwell 392 Pages
Description
This volume provides students with the essential readings for understanding the dominant issues in the sociology of the family. The editor presents the reader with a collection of important writings that include recent and currently relevant material as well as the rich variety of empirical work conducted in this field.
Table of contents
List of figures.
List of tables.
Acknowledgements.
Introduction.
Acknowledgements.
Introduction.
Part I: Changing Families: Introduction:.
1. Social Reconstruction and the Emergence of Companionate Marriage, 1945-59: Janet Finch and Penny Summerfield.
2. Liberalizing Heterosexuality?: Gail Hawkes.
3. The One and the Many: Modernity and Post-Modernity: David Cheal.
Part II: Marriage, Intimacy and Power: Introduction:.
4. Love and Intimacy: The Gender Division of Emotion and 'Emotion Work': a Neglected Aspect of Sociological Discussion of Heterosexual Relationships: Jean Duncombe and Dennis Marsden.
5. Partners by Choice: Equality, Power and Commitment in Non-Heterosexual Relationships: Jeffrey Weeks, Brian Heaphy and Catherine Donovan.
6. Money, Power and Equality in Marriage: Carolyn Vogler and Jan Pahl.
7. Uncovering Gender Differences in the Use of Marital Violence: The Effect of Methodology: James Nazroo.
Part III: Domestic Organisation:.
8. Cohabitation or Marriage? - Cohabitation: Susan McRae.
9. Women's Work: Nickie Charles and Marion Kerr.
10. The Household and the Labour Market: Lydia Morris.
Part IV: Divorce and Lone-Parenthood:.
11. Diversity and Ambiguity Among Lone-Parent Households in Modern Britain: Graham Crow and Mike Hardey.
12. State, Family and Personal Responsibility: The Changing Balance for Lone Mothers in the United Kingdom: Jane Millar.
13. The Interests of Children at Divorce: Martin Richards.
Part V: Family, Kinship and Care. Introduction:.
14. The Informal Sector of Welfare: A Crisis in Caring: Hilary Graham.
15. Obligations of Kinship in Contemporary Britain: Is There Normative Agreement? Janet Finch and Jennifer Mason.
16. Gender Differences in Informal Caring: Sara Arber and Jay Ginn.
17. Living with Disability: The Experiences of Parents and Children: Sally Baldwin and Jane Carlisle.
Index.
Reviews
'The Sociology of the Family: A Reader, edited by Graham Allan, range wisely across topics, from gender differences in emotional work in relationships to how couples manage their money and what it means … [The chapters] sparkle with energy and enthusiasm for the subject. This volume showcases the intellectual activity in family scholarship today.' -- Linda Waite, Professor of Sociology and Co-Director, Alfred P. Sloan Center on Parents, Children and Work at the University of Chicago

'The pieces chosen are not only of interest in their own right, but also, together with Allan's introductions, serve as excellent guides to further reading. I cannot wait to be able to recommend this much-needed collection to students and researchers in this field.' -- Dr David Morgan, Department of Sociology, The University of Manchester
Features
* A convenient compendium of critically acclaimed articles which represent the most interesting recent writing and research.
* The editor provides critical evaluations of both the articles themselves and an assessment of the strengths and weaknesses of other research in each of the related sub-areas.
* The selected articles are contextualised by introductions to each particular topic, which is in turn supported by detailed suggestions for further reading.