The Soft Edge: Where Great Companies Find Lasting Success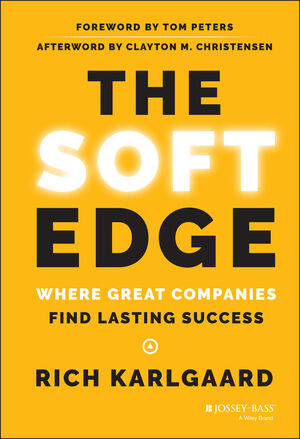 The Soft Edge: Where Great Companies Find Lasting Success
ISBN: 978-1-118-82942-4 April 2014 Jossey-Bass 272 Pages
Description
What Does it Take to Get Ahead Now—And Stay There?
High performance has always required shrewd strategy and superb execution. These factors remain critical, especially given today's unprecedented business climate. But Rich Karlgaard—Forbes publisher, entrepreneur, investor, and board director—takes a surprising turn and argues that there is now a third element that's required for competitive advantage. It fosters innovation, it accelerates strategy and execution, and it cannot be copied or bought. It is found in a perhaps surprising place—your company's values.
Karlgaard examined a variety of enduring companies and found that they have one thing in common; all have leveraged their deepest values alongside strategy and execution, allowing them to fuel growth as well as weather hard times. Karlgaard shares these stories and identifies the five key variables that make up every organization's "soft edge":
Trust: Northwestern Mutual has built a $25 million dollar revenue juggernaut on trust, the foundation of lasting success. Learn how to create an environment that engenders trust and propels high performance.
Smarts: In most technical fields your formal education quickly becomes out of date. How do you keep up? Learn how the Mayo Clinic, Stanford University women's basketball team, and others stay on top by relentlessly pursuing an advantage through smarts.
Teamwork: Since collaboration and innovation are a must in the global economy, effective teamwork is vital. Learn how global giant FedEx stays focused and how nimble Nest Labs relies on lean teams with cognitive diversity.
Taste: Clever product design and integration are proxies for intelligence because they make customers feel smart. But taste goes further into deep emotional engagement. Specialized Bicycles calls it "the elusive spot between data truth and human truth." How can you consistently make products or services that trigger these emotional touch points?
Story: Companies that achieve lasting success have an enduring and emotionally appealing story. What's your company's story? How do you tell it your way? Gain the ability to create a powerful narrative in a world where outsiders often exercise the louder voice.
Foreword by Tom Peters xi
Preface: A Tale of Transformation—and Lasting Productivity Gains xvii
1 A Wellspring of Enduring Innovation: The Soft Edge 1
2 Hard Versus Soft: The Fight for Resources 20
3 Trust: The Force Multiplier of All Things Good 36
4 Smarts: How Fast Can You and Your Company Adapt? 66
5 Teams: Great Things Come to the Lean and Diverse 100
6 Taste: Beauty Made Practical, Magic Made Profitable 137
7 Story: The Power of Story, Ancient and New 173
Conclusion: The Sweet Spot of High Performance 209
Afterword by Clayton M. Christensen 219
Notes 223
Acknowledgments 233
About the Author 237
Index 238
"As we shift from the rigid 'ladder world' of scale efficiencies to the nimble 'lattice world' of scale agility, mastering the soft edge becomes a hard reality. Karlgaard sharpens our grasp of this elusive though vital topic and offers pragmatic, accessible solutions."
—Cathy Benko, vice chairman and managing principal, Deloitte LLP, and bestselling author of Mass Career Customization
"As a teacher and student of leadership, I've long believed the relevance and power of 'soft side' economics. (Trust, for example, is a measurable economic driver that makes organizations more profitable and people more promotable.) With The Soft Edge, Karlgaard joins the conversation and makes the bold statement that the soft side is now the only remaining competitive edge in our new economy. Leaders, I recommend that you take full advantage of Karlgaard's advice— so you can start to reap the dividends."
—Stephen M. R. Covey, New York Times bestselling author of The Speed of Trust and Smart Trust
"At a time when the stakes couldn't be higher, many leaders are searching for new ways of competing—with resilience as a top priority. Forbes publisher Rich Karlgaard, a longtime voice for 'hard edge' business practices, argues that 'soft edge' advantages have enduring power in our knowledge economy. Anyone with a stake in tomorrow's bottom-line outcomes should take a close look at Karlgaard's cutting-edge book."
—Amy Edmondson, Novartis Professor of Leadership and Management, Harvard Business School, and author of Teaming: How Organizations Learn, Innovate, and Compete in the Knowledge Economy
"The Soft Edge is an eye-opener: Rich Karlgaard makes the utterly convincing argument that the soft side of business makes all the difference to a company's ability to thrive in the long run. Leaders, it's time to stop polishing your strategy and fine-tuning your execution. Instead, read this critical book—then start investing in the very soul of your company."
—John Gerzema, bestselling author, including The Brand Bubble and The Athena Doctrine
"Leaders have never had so many opportunities—and pressures. Get to the heart of it with Rich Karlgaard, who has distilled his significant experience into a single argument that works for every organization in today's times: if you want innovation and lasting success, you must develop your 'soft edge.' Exactly. The soft edge is truly as vital now as strategy and execution. So whether you're a tireless chief, a rising star, or a 'hard-edged' business veteran, you owe it to yourself to get a copy of Karlgaard's compelling new book. Why? Because The Soft Edge will help you find the future—and the future is now."
—Marshall Goldsmith, Thinkers 50 Top Ten Global Business Thinker and top-ranked executive coach
 "Management and leadership thinking has reached a crisis point. The great irony of our age is this: the faster technology progresses, the more crucial it is to organize around timeless human truths. Rich Karlgaard shows the way in his compelling new book, The Soft Edge."
—Gary Hamel, director of the Management Lab and author of What Matters Now
"At a time when strategy and execution can be bought, your company's core values are the very accelerators you need for differentiation and innovation. Forbes publisher Rich Karlgaard knows which organizations are now winning the endurance race, and why. He shines a light on an often-overlooked driver: values. The Soft Edge is for forward-thinking leaders dedicated to rising above the competition."
—Sally Hogshead, author of How the World Sees You: Discovering Your Highest Value Through the Science of Fascination and creator of HowToFascinate.com
"The best companies enchant us with purpose, affection, empathy, coolness, and grit. Rich Karlgaard's book shows you how to achieve this lofty goal."
—Guy Kawasaki, author of APE: Author, Publisher, Entrepreneur and former chief evangelist of Apple
"Rich Karlgaard puts the entire subject of culture and corporate character into a totally new context—a powerful framework proven with example after example. A great read for any business leader."
—John Kennedy, senior vice president of marketing, IBM Global Business Services
"For decades I have witnessed the power of teams, trust, and smarts in the most disruptive startups in Silicon Valley. The Soft Edge makes a powerful argument for why great businesses and products repeatedly derive from the creative friction, small teams, and minimally invasive management which the best leaders employ to achieve breakout success. I want to thank Rich Karlgaard for a wonderfully readable and actionable exploration of these too often overlooked skills."
—Randy Komisar, partner, Kleiner Perkins Caufield, and Byers lecturer, Stanford Business School
"The Soft Edge is crystal clear, deeply substantial, and alarmingly concrete. It illumines what an organization might be—what it must be if it is to impact the world and elevate the human spirit (and run a profit). To read it is an exercise in conviction."
—John Ortberg, senior pastor of Menlo Park Presbyterian Church and author of Who Is This Man?
"I love this book. From the first page to the last it's a real pleasure to read, and without a doubt the most enjoyable business book in a very, very long time. It's smart, intelligent, and fun. That's because Rich Karlgaard understands the craft of writing and the art of business. He treats us to great stories and in-depth case studies that often read like edge-of-your-seat thrillers. And don't let the title fool you. Sure, it's about things like trust and teams and taste and stories, but it's rich in tangible, hard evidence that proves the power of these qualities. The Soft Edge is on my short list of best business books of the year. I think it'll end up on yours, too."
—Jim Kouzes, coauthor of The Leadership Challenge and Dean's Executive Fellow of Leadership, Leavey School of Business, Santa Clara University
"The workplace is facing unprecedented global challenges. Tomorrow's leaders must inspire their teams across a host of new boundaries—geographic, generational, economic, cultural, and technological—to name a few. The greatest will be those who can leverage their soft skills to motivate. In the world of big data, human skills will be the big differentiator! Learn more about twenty-firstcentury leadership in The Soft Edge—a wonderful, easy-to-read, and insightful corpus by longtime business innovator Rich Karlgaard. It's hard to find a more experienced, intelligent guide to help you and your company make the necessary leaps."
—Ross Smith, director of test, Skype Division, Microsoft
"I find the style to be completely refreshing and unique. It feels like Rich Karlgaard is actually having a conversation with his readers. The analogies are astute and crisp. The Soft Edge is a marvelous work! Definitely destined for 'classic' status—something to reread and savor."
— Karen Tucker, CEO, Silicon Valley Churchill Club

"Entertaining, magnificent, enlightening, and so relevant to the future."
—Vivek Wadhwa, vice president of research and innovation at Singularity University; fellow at Stanford University's Center for Corporate Governance; research director at Duke University's Center for Entrepreneurship and Research Commercialization
"There has never been a more challenging (but potentially rewarding) time to lead. As is often the case, Rich Karlgaard once again successfully 'zigs' with his clever premise of The Soft Edge. Flush with innovative ideas collected from his unique vantage point, he offers countless refreshing tips for tomorrow's leaders. Net—a terrific blueprint for a wide range of executives who are serious about leading teams to victory in the new frontier. A must-read!"
—Greg Welch, senior partner, Spencer Stuart, marketing and board recruiting practice