The Sommelier Prep Course: An Introduction to the Wines, Beers, and Spirits of the World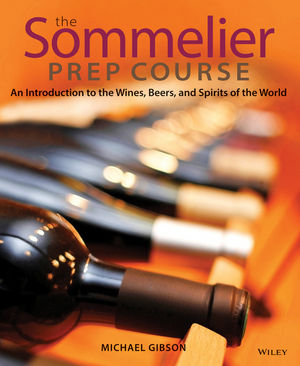 The Sommelier Prep Course: An Introduction to the Wines, Beers, and Spirits of the World
ISBN: 978-0-470-28318-9
Apr 2010
480 pages
Description
While the subject of wine, beer, and spirits continues to grow in popularity, there are very few books that approach the subject in an accessible manner and that also contain the pedagogical features needed by instructors. In addition, most books cover the subject of wine only, while hospitality students need a broader base on knowledge that also includes beer and spirits. After finishing the book, readers will be prepared to take the introductory certification exams of the Court of Master Sommeliers, International Sommelier Guild, and Society of Wine Educators and receive a first-level certification.

Divided into five parts, Gibson covers wine, beer, and spirits. Along with a history of each type of beverage, he also covers how these beverages are produced and manufactured, varieties and styles of these beverages, and food pairings. Most importantly, Gibson covers costing, pricing, merchandising, marketing, and storing wine, along with creating a balanced wine list and table service.
Preface.
1: Wine Basics.
2: A Short History of Wine.
3: Viticulture.
4: Viniculture.
5: Important Grape Varieties.
6: Food & Wine Pairing.
7: Wine Tasting and Sensory Analysis.
8: Applying Wine Analysis.
9: The Wines of France.
10: The Wines of Italy.
11: The Wines of Spain.
12: The Wines of Germany.
13: The Wines of Portugal.
14: The Wines of Austria, Hungary, Greece, and Other European Regions.
15: The Old World and the New World of Wine.
16: The Wines of the United States.
17: The Wines of Australia.
18: The Wines of New Zealand.
19: The Wines of South Africa.
20: The Wines of Chile.
21: The Wines of Argentina.
22: Emerging Wine Regions of the World.
23: Beer: Importance, Ingredients, and the Brewing Process.
24: Ales, Lagers, and Beer Styles.
25: Sake, Mead, and Cider.
26: Distillation and Spirit Production.
27: Important Styles of Spirits.
28: Beverage Service and Storage.
29: Beverage Sales and Wine Lists.
Appendices.
Index.