The Soviet Era: From Lenin to Yeltsin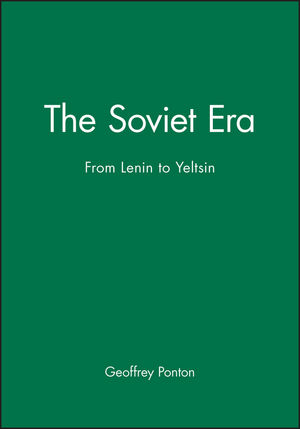 The Soviet Era: From Lenin to Yeltsin
ISBN: 978-0-631-18776-9 January 1994 Wiley-Blackwell 304 Pages
Description
The Soviet Era gives a succinct, refreshing overview of the Soviet Union from the Bolshevik revolution in 1917 to its disintegration in 1991. After a prologue recounting the attempted coup d'etat of August 1991 and the events which followed, it looks at the development and the decline of the Soviet Union, with the perspective of hindsight provided by the opening up of public analysis and discussion during Gorbachev's period of glasnost and perestroika.

Thus the years from 1917 to 1985 are discussed primarily in the light of their significance for glasnost, perestroika and the collapse of the Soviet Union. There are three chapters covering the time of revolution and civil war, Stalin's rule, and the problems and achievements of the post-Stalin period. An extended survey of the Gorbachev years follows, with two chapters on political developments, and one each on the Communist Party and the new phenomenon of political activity arising from the grass-roots. A third section discusses the vital policy areas of the economy, foreign affairs and defense.

The last extended section of the book traces the effects of Soviet rule and its disintegration on the major nationalities of the Baltic states, Central Asia and the Caucasus. An epilogue summarizes the attempts to organize independent republics, and their association in the Commonwealth of Independent States. Overall the book provides an accessible, clear, readable survey of the history of the Soviet Union, suitable for students as well as the general reader.
Preface.
Prologue: A Revolution in the Soviet Union.
Part I: The Growth and Decay of the Soviet Union:.
1. The Bolshevik Revolution Triumphs.
2. Stalinism - the Regime Bloodily Consolidated.
3. Stalin's Successors - Change and Stagnation.
4. The Surge of Reform.
Part II: From Party Power to Presidential Government:.
5. Soviet Government Transformed.
6. The Decline and Fall of the CPSU.
7. Political Action from the People.
Part III: Economic and International Cataclysm:.
8. Economic Disaster.
9. From Superpower to Supplicant.
10. Military Confusion.
Part IV: Fifteen New Republics:.
11. The Nationalities Reject the Union.
12. Russia and Belarus Accept the Inevitable.
13. Ukraine and Moldova Break Free.
14. The Baltic Republics Regain Independence.
15. Central Asia - Independence Thrust Upon Them.
16. The Caucasus Fights.
Epilogue - The Future.
Appendices.
Further Reading.
References.
"This is a lively book that is far more readable and interesting than the vast majority of the existing literature on European integration." The Slavonic Review
This large format textbook is the most up-to-date and convincing account available of the political history of the Soviet Union
Written for the student, it is clear, accurate and immediately accessible.