The State, Politics and Health: Essays for Rudolf Klein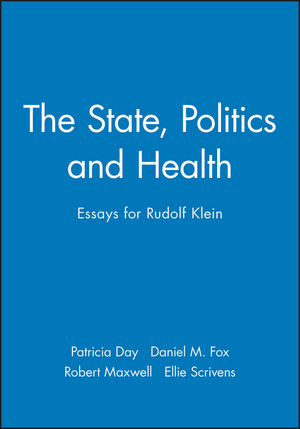 The State, Politics and Health: Essays for Rudolf Klein
ISBN: 978-1-557-86868-8
Jun 1996, Wiley-Blackwell
256 pages
Description
These essays celebrate the achievements of Rudolf Klein, an exemplary colleague in the study of politics and policy, especially of health and health services. Rudolf Klein's work continues to defeat conventional labels after more than four decades of prolific publication. He is a historian, a journalist, a political scientist, a policy analyst, a social scientist, an academic, and an advisor to public bodies. But none of these labels, or even all of them together, accurately describes this intensely detached and warmly impersonal practical intellectual purist whose sixty-fifth birthday offered this occasion for flattery and emulation.
Acknowledgements.
Introduction.
Part I: Theory and Policy:.
1. The Life You Risk Should be Your Own: Albert Weale.
2. Is There a Cake to Divide?: Samuel Brittan.
3. Quasi-Markets: The Answer to Market Failure in Health Care?: Julian LeGrand.
4. A New Institutional Economics on Health Care: James C. Robinson.
Part II: Institutions, Professions and Policy:.
5. The State as the Guarantor of Social Welfare: Jerry L. Mashaw and Theodore R. Marmor.
6. The Limits of Simple Fixes.
7. Negotiating Health Policy.
8. The Accretion of History: Peter Hennessy.
9. The Profession of Medicine in the Making of Health Policy.
10. Reconciling the Demand and Provision of Health Services.
Part III: Analysis and Policy:.
11. Policy Analysis as an Academic Volition: Richard Rose.
12. Some Policy Analysis Fallacies: Patricia Day.
13. Asking the Right Question: Ellie Scrivens.
Each essay employs insights and methods associated with Rudolf Klein to describe contemporary policy and politics on a subject associated with him
The essayists include journalists, policy analysts, economists, sociologists, lawyers, historians and political scientists who have direct experience in making and implementing health and social policy.