The State of the Earth: Contemporary Geographic Perspectives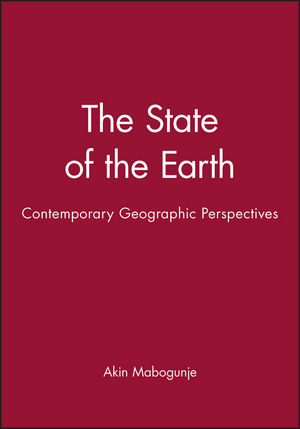 The State of the Earth: Contemporary Geographic Perspectives
ISBN: 978-0-631-20244-8
Oct 1997, Wiley-Blackwell
444 pages
Description
The focus of this text is topical. It brings geography to life in treating actual problems and critises in the contemporary world.
Foreword.
Preface.
1. Geographical Thought Through the Ages: Prof. Horacio Capel, Barcelona.
2. Geographical Perspectives: Dr. Peter Gould.
3. Geographical Theories: Reginald G. Golledge.
4. Geographical Methodology: Prof. Alan M. Hay, Sheffield.
5. Human Transformation of the Earth's Surface and the Use (and Misuse) of Natural Resources: Prof. Neil Roberts.
6. Climatic Changes and the Future of the Human Environment: Dr. Vladimir M. Kotlyakov.
7. Environmental Hazards, Natural Disasters and Societal Responses: Prof. Susan Cutter.
8. The Global Challenge of Migrations and Rising Population Densities: Dr. H. Ramachandran, Mussoorie.
9. Market Forces, Cultural Factors and Locational Processes: Prof. David M. Smith.
10. Modes of Production and Areal Differentiation: Prof. Milton Santos.
11. Transportation, Trade, Tourism and the World Economy System: Prof Gabriel Wachermann.
12. Spatial Financial Flows and the Growth of the Modern Industrial City: Dr. Nigel Thrift.
13. The Information Revolution and Future Global Geography: Prof. Vladimir Tikunov.
14. Exploration, Mapping and the Modernization of State Power: Dr. Marcelo Escolar.
15. Spatial Planning and National Development: Dr. Maurice Daly, Australia.
16. Core-periphery Relations in the Era of Globalization: Bertha Becker, Rio De Janeiro.
17. Multinational Corporations and the Possible Demise of the Nation-state: Prof. Peter Dicken.
18. Geography in the Age of Megacities: Yeu-man Yeung.
* Complete coverage of the discipline of geography in relation to its focus on real-world issues and problems.
* Based on original contributions by the world's leading geographers.
* Written by Africa's foremost geographical scholars.