The State of the Novel: Britain and Beyond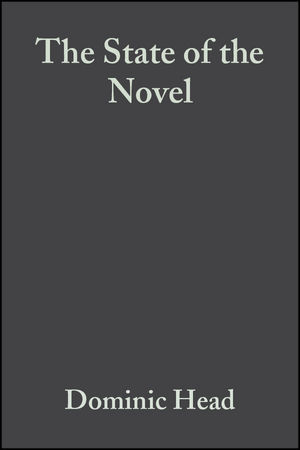 The State of the Novel: Britain and Beyond
ISBN: 978-1-405-17011-6 September 2008 Wiley-Blackwell 184 Pages
Description
Part of the Blackwell Manifestos series,
The State of the Novel
offers a lively, yet rigorous investigation into the state and future of the contemporary British novel written by an expert in the field.
Evaluates the state of the 'serious literary' novel and novel criticism
Prominent treatment is paid to the 'internationalization' of the novel in English
Offers a manifesto on contemporary fiction from an expert in this field; Dominic Head is best known for his Cambridge Introduction to Modern British Fiction 1950-2000
Establishes the shared interests of contemporary theorists of the novel, cultural commentators, and novel consumers
An ideal supplementary text for students and faculty interested in the novel and contemporary fiction
Table of contents
Introduction.
1. The Post-Consensus Renaissance?.
2. The Novel and Cultural Life in Britain.
3. Assimilating Multiculturalism.
4. Terrorism in Transatlantic Perspective.
5. Global Futures: Novelists, Critics, Citizens.
Notes.
Bibliography.
Index
Reviews
"Head contemplates the contemporary novel and its readers, scholarly and general, offering a reminder of the form's potential. Serious fiction interrogates social and political issues and plays an important part in the 'process of acculturation' and in the formation of identity and understanding of the self." (
CHOICE
, March 2009)
"The first half of Head's book benefits from a tight focus on analysing the relationship between the contemporary cultural fields on England and the US, and the literary novel genre … .I particularly liked the readings Head offers of the peculiarly British sub-genre of the 'seaside novel' ". (Times Higher Education Supplement, January 2009)
Features


evaluates the state of the 'serious literary' novel and novel criticism


prominent treatment is paid to the 'internationalization' of the novel in English


offers a manifesto on contemporary fiction from an expert in this field; Dominic Head is best known for his Cambridge Introduction to Modern British Fiction 1950-2000: a key textbook used in contemporary fiction courses


establishes the shared interests of contemporary theorists of the novel, cultural commentators, and novel consumers


an ideal supplementary text for students and faculty interested in the novel and contemporary fiction