The Stock Market, 7th Edition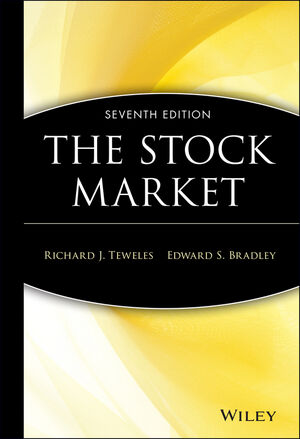 The Stock Market, 7th Edition
ISBN: 978-0-471-19134-6
Sep 1998
576 pages
Description
A CLASSIC REVISITED--AND JUST IN TIME
The most popular and respected guide to every facet of the stock market has now been thoroughly updated to reflect the dramatic shifts that have taken place over the past several years. This Wall Street classic continues to provide the most current and comprehensive coverage of the market's participants, principles, and practices.
In easy-to-follow, straightforward terms, The Stock Market, 7th Edition shows you how the market works. Beginning with the basics, it takes you from the market's history and products to its basic structure and operation, to the actual techniques used by shareholders and traders. Based on the authors' more than 70 years' combined experience in the field of finance, it shows you how to buy stocks, transact a buy order, and master the often tricky techniques of money management, pyramiding, options, and much more. Every topic is examined from both a broad top-down perspective and with step-by-step guidance.
Packed with clear definitions, cutting-edge strategies, and helpful examples, this new edition provides in-depth information on topics that have changed how stocks perform, as well as how they should be handled. In addition to the globalization of the securities business, regulatory changes, program trading, and advances in online services, you'll find details on key developments in several important areas, including the derivatives market, index fund investing, and technical and fundamental analysis.
Covering everything from municipal securities and maintenance calls to serial bonds and NASDAQ, this exhaustive reference is invaluable for understanding stock market fundamentals. Now more than ever, it is the one guide every market participant-whether individual investor, broker, or financial advisor-should own.
* Averages
* Bearer Bonds
* Breakpoints
* Bull and Bear Spreads Common Stock
* Covered Options
* Derivatives
* Dollar Averaging
* Excess Equity
* Exempt Securities
* Flash Prices
* Hedging
* Municipal Securities
* New York Stock Exchange
* Price-Earnings Ratio
* Puts and Calls
* Reverse Splits
* Rolling Over
* Stock Splits Straddles
* Transfer Agents
* Zero Coupon Bonds.
Praise for previous editions of The Stock Market
"This is a terrific primer on the industry. The authors have created an easy-to-understand and thorough update of this investment classic."
—Michael Holland, Vice Chairman, Oppenheimer & Co., Inc.
"The classic every investor who has ever read a book grew up on . . . for both the beginner and the experienced professional alike, this [new] edition is a marvelous reference tool. A must for every investment library."
—Stock Market Magazine
FUNDAMENTAL INFORMATION.

Securities Markets and Securities Owners.

Corporate Securities.

U.S. Government and Municipal Securities.

Reading the Financial Page.

WORK OF THE STOCK EXCHANGE.

The New York Stock Exchange: Its Function and History.

The New York Stock Exchange: Organization and Membership.

Listed Stock and Bond, Tickers, and Quotations of the New York Stock Exchange.

Trading Procedures.

The NASDAQ Stock Market and the National Association of Securities Dealers.

The American Stock Exchange and Other U.S.Stock Exchanges.

Foreign Markets.

WORK OF THE SECURITIES HOUSES.

The Customer and the Broker.

Margin Trading.

Investment Banking.

Securities Delivery, Transfer, and Clearing.

REGULATIONS.

Manipulation in the Old Market.

Regulation, Self-Regulation, and Compliance.

INVESTING PRACTICES AND SPECIAL INSTRUMENTS.

Stock Price Averages and Indexes.

Investing and Trading in Common Stocks.

Investment Companies.

Fundamentals of Stock Prices.

Technical Analysis of Stock Prices.

Options, Futures, and Other Derivatives.

Convertible Securities, Warrants, and Rights.

Sources of Information and Security Rating.

Glossary.

Index.