The Stock Market Barometer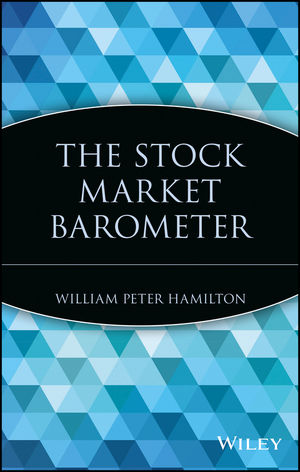 The Stock Market Barometer
ISBN: 978-0-471-24764-7 March 1998 368 Pages
Description
A pioneering classic in Dow Theory.

"If you are a serious student of investing, you owe it to yourself to 'go back to the future' and read this book." --Charles B. Carlson, Editor of "Dow Theory Forecast".

The Dow Theory is consistently one of the best strategies for understanding and predicting the stock market, and when it is applied as a method of predictable forecast, it is known as the "barometer." This finance classic offers tips and trends that William Hamilton observed over the years in the market, offering a view of market behavior that remains perpetually current. Hamilton, a contemporary of Charles H. Dow, presents a clear and in-depth discussion of the Dow Theory and its explanation of averages and affinity for predictable cycles of panic and prosperity.

Provides an analysis of the stock market and its history since 1897.
* This book is a springboard upon which current Dow Theory has thrived.
* New foreword by Charles Carlson.

The late William P. Hamilton originally published The Stock Market Barometer in 1922. Hamilton spent a career in financial journalism and became an editor of The Wall Street Journal.
Cycles and Stock Market Records.

Wall Street of the Movies.

Charles H. Dow, and His Theory.

Dow's Theory, Applied to Speculation.

Major Market Swings.

A Unique Quality of Forecast.

Manipulation and Professional Trading.

Mechanics of the Market.

"Water" in the Barometer.

"A Little Cloud Out of the Sea, Like a Man's Hand"--1906 The Unpunctured Cycle.

Forecasting a Bull Market--1908-1909.

Nature and Uses of Secondary Swings.

1909, and Some Defects of History.

A "Line" and an Example--1914.

An Exception to Prove the Rule.

Its Greatest Vindication--1917.

What Regulation Did to Our Railroads.

A Study in Manipulation--1900-1.

Some Conclusions--1910-14.

Running True to Form--1922-1925.

Some Thoughts for Speculators.

Appendix.

Averages.