The Stork and the Syringe: Political History of Reproductive Medicine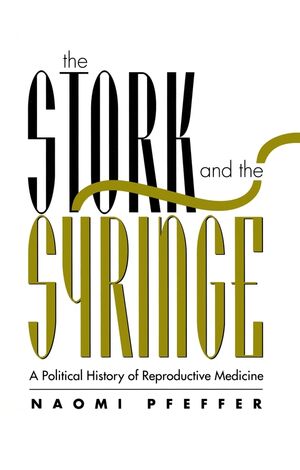 The Stork and the Syringe: Political History of Reproductive Medicine
ISBN: 978-0-745-61187-7 December 1993 Polity 250 Pages
Download Product Flyer
Download Product Flyer
Download Product Flyer is to download PDF in new tab. This is a dummy description. Download Product Flyer is to download PDF in new tab. This is a dummy description. Download Product Flyer is to download PDF in new tab. This is a dummy description. Download Product Flyer is to download PDF in new tab. This is a dummy description.
Description
Reproductive technology is typically discussed in the future tense. Yet doctors have always treated involuntary childlessness. This book looks at the recent history of infertility and the different ways medicine has treated it. It traces the reluctance to allow infertility a past to a new tension that has emerged between utopian and anti-utopian fears about the growth rate and composition of population.
The Stork and the Syringe argues that although doctors' approach to infertility is formed in response to the exigencies of the political economy of medical practice, it also accommodates a persistent gender bias: the tendency to regard women's bodies as inviting intervention and men's as demanding caution. This bias is manifest in relation to gametes (eggs and sperm), sex hormones, in the form of medical investigations and treatment, and the frequency and enthusiasm with which the latter are carried out. Departures from this theme are rare and controversial, as the history of artificial insemination using donor semen demonstrates.
This book is a major contribution to the history and sociology of reproduction, fertility, population and medicine.
Table of contents
Introduction.
1. Talking about Infertility.
2. Norms and Deviations.
3. Images of Sterility.
4. Politics, Health and Sterility.
5. A Crutch in the Crotch.
6. Bank Accounts and Babies.
Notes.
Reviews
'Is a highly readable book, appealing to the general reader and essential for specialists in reproductive history.'
Open Letters Bookclub
'The Stork and the Syringe is an important contribution to the sociological and historical literature on women and reproduction.' Canadian Women's Studies
'Pfeffer's book is not only timely and invaluable for the current debates on the morality and efficacy of reproductive technology, but also provides a stimulating and provocative account for anyone interested in the wider history of the interaction between medicine, economics, politics and gender.' Medical History
'Pfeffer's work greatly informs this debate. It shows how we have progressed beyond believing that women are under an obligation to have babies. It raises the question of whether we believe that they have the right, irrespective of costs, and despite any ethical and legal objections, to have them.' British Medical Journal
'... She offers much food for serious thought not least about the distortions and inequity in the poor NHS provision of infertility treatments ...' Multiple Births Foundation Newsletter
'Uncovering some of the myths that have grown up around infertility is an important task lucidly and interestingly carried out by Naomi Pfeffer. Throughout this thoroughly annotated, but readable, account Pfeffer considers not only the attitudes of the medical profession, but also those of the political and religious establishments, and the financial implications.' Bulletin of Medical Ethics
Features
This is one of the first books to look at the history of infertility. The author argues that there is a hidden history of involuntary childlessness
This book analyses why the medical profession dislikes examining the male reproductive system. The author discusses both male and female infertility
The author considers the politics of involuntary childlessness, and considers why since the second world war it has not been considered a serious social problem, and why it has been largely ignored by medicine, social policy and feminists
The book uses new original data and research findings
A outstandingly original volume which will be widely discussed.