The Story of Post-Modernism: Five Decades of the Ironic, Iconic and Critical in Architecture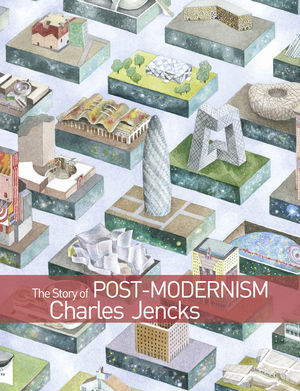 The Story of Post-Modernism: Five Decades of the Ironic, Iconic and Critical in Architecture
ISBN: 978-0-470-68895-3 October 2011 272 Pages
Description
In
The Story of Post-Modernism
, Charles Jencks, the authority on Post-Modern architecture and culture, provides the defining account of Post-Modern architecture from its earliest roots in the early 60s to the present day. By breaking the narrative into seven distinct chapters, which are both chronological and overlapping, Jencks charts the ebb and flow of the movement, the peaks and troughs of different ideas and themes.
The book is highly visual. As well as providing a chronological account of the movement, each chapter also has a special feature on the major works of a given period.
The first up-to-date narrative of Post-Modern Architecture - other major books on the subject were written 20 years ago.
An accessible narrative that will appeal to students who are new to the subject, as well as those who can remember its heyday in the 70s and 80s.
Table of contents
PREFACE
Post-Modernism Resurgent?
The Back Story
Some Debts Acknowledged
And Especially Madelon
PART I The Perfect Storm of Post-Modernism
The Moral Failures of Modernism
The Recurrent Deaths of Modernism
The Triumph of Nothingness
Revisionists and Le Corbusier Lead the Revolt
Complexity and Double-Coding – the First Post-Modern Synthesis
The Shape of History – Big, Medium and Small Waves
PART II Searching for Difference, Finding Commonality
Global Pluralism
Radical Eclecticism, the First Response to Homogeneity
Contextual Counterpoint
Post-Modern Classicism – the Ironic International Style
Media Events and Money
A Diversion on Cost and Taste
James Stirling Synthesises Contextualism and Pluralism
The Complexity Paradigm Extended
Modernists Becoming Post-Modern
Time-Binding Opposites
PART III Towards a Critical Modernism
What is a City? – a Complex Adaptive System
Heterotopias and the Heteropolis
Expressively Green and Inexpensive
Rem Koolhaas, Steven Holl, Toyo Ito and the Porous Route Building
Peter Eisenman, the Landform and the Critical-Creative
PART IV Complexity and Nature's Ornament
The Complexity Paradigm
Fractal Architecture and the Metaphysics of Seamless Continuity
Opening up the White Cube
Four Degrees of Ornament
PART V The Coming of the Cosmic Icons
The Iconic Building and its Discontents
The Bilbao Effect
Multiple Meaning and Enigmatic Signifiers
Worthy Icons?
Paranoia, Veiled Themes and Cosmic Iconology
Premature Conclusion: the Iconology of Post-Modernism?
Notes
A Post-Modern Bibliography