The Strategic Decision Challenge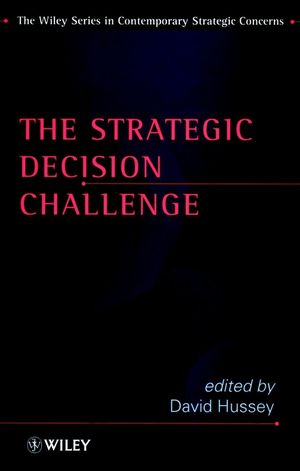 The Strategic Decision Challenge
ISBN: 978-0-471-97480-2
Mar 1998
264 pages
Description
This book examines historical evidence for the success and failure of strategic decisions over the last thirty years, and considers why there are so many strategic moves which are subsequently reversed, and indeed why the failure rate of many strategic moves is high. Possible causes are explored, and a close examination is made of issues of misperceptions of the business environment, poor analysis and lack of creative thinking. The variety of papers cover wide-ranging perspectives on the subject, from ways of improving strategic decisions, to the numerous analytical techniques that can be used in strategic decision making.
Strategic Management: Past Experiences and Future Directions (D. Hussey).

Deregulation and the Pied Piper Approach to Diversification (E. Boyle).

Competitive Strategies through Sun Tze's Art of Warfare (S. Ho).

A Model of Strategy Decision Making (G. Greenley).

The Emphasis on Value Based Strategic Management in UK Companies (S. Handler).

The Paradox of Competitive Advantage (F. Winfrey, et al.).

The Noble Art and Practice of Industry Analysis (P. Jenster & P. Barklin).

Strategic Analysis for an Information Business--A Case Study (S. Crawshaw).

The Company as a Cognitive System of Core Competences and Strategic Business Units (H. Hinterhuber, et al.).

Management Efficiency Improvement Strategy and its Applications (S. Yahagi).

Strategic Guidelines for Outsourcing Decisions (D. Jennings).

Strategic Alliances in the Airline Industry (W. Hall & D. Eppink).

Managerial Preferences in International Merger and Acquisition Partners (S. Cartwright, et al.).

Glossary of Techniques for Strategic Analysis (D. Hussey).

Addresses of Contributors.

Index.