The Strategic Drucker: Growth Strategies and Marketing Insights from the Works of Peter Drucker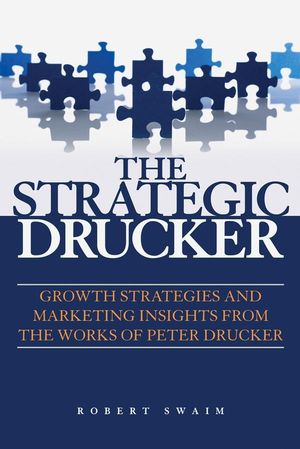 The Strategic Drucker: Growth Strategies and Marketing Insights from the Works of Peter Drucker
ISBN: 978-1-118-17924-6
Nov 2011, Jossey-Bass
280 pages
Description
The strategy and marketing wisdom of Peter Drucker, compiled into one handy guide

Peter Drucker was widely considered the father of modern management. His 39 books and countless scholarly and popular articles predicted many of the major economic developments of the late twentieth century, and his influence upon modern business is almost immeasurable. In The Strategic Drucker, Drucker associate and student Robert Swaim has distilled Drucker's most important business strategies and philosophies into one valuable book. Swaim recounts and compiles Drucker's insight on growth, strategic planning, sales, marketing, innovation, and a wealth of other vital business topics. For anyone who wants to get to know the real Drucker, without digging through all of his books and articles, The Strategic Drucker is a valuable resource.

Robert Swaim, PhD (Beijing, China), has taught at numerous universities around the world and collaborated with Peter Drucker in developing an MBA and executive development program for Chinese executives and managers.
Acknowledgments.
Preface: Peter F. Drucker (1909–2005).
Chapter 1 Drucker on Managing Growth.
Chapter 2 Strategy and the Purpose of a Business.
Chapter 3 Dissecting the Interview and Drucker on Marketing.
Chapter 4 The Five Deadly Business Sins.
Chapter 5 Innovation and Entrepreneurship.
Chapter 6 Getting Rid of Yesterday.
Chapter 7 External Growth Strategies.
Chapter 8 Family Business Management.
Chapter 9 Drucker and the Next Society.
Chapter 10 Planning and Managing Organizational Change.
Chapter 11 Strategic Planning: The Entrepreneurial Skill.
Chapter 12 Strategic Decision Making.
Appendix A Strategic Management Application Tools.
Bibliography.
Index.