The Strategic Treasurer: A Partnership for Corporate Growth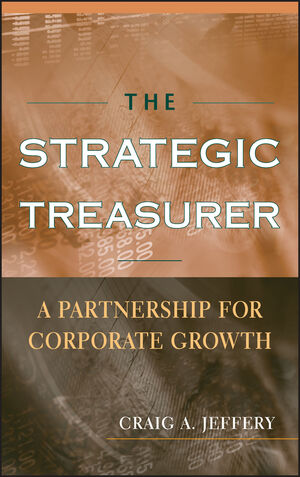 The Strategic Treasurer: A Partnership for Corporate Growth
ISBN: 978-0-470-50805-3
Jun 2009
320 pages
Description
The current period of market and governmental turbulence is the most challenging—yet rewarding—time to be a treasurer. Now, as perhaps never before, the treasurer's visions, skills, and worth will be tested and proven. A useful reference, The Strategic Treasurer: A Partnership for Corporate Growth systematically equips today's corporate treasurers to move from merely being the liquidity manager to becoming a strategic driver and steward of corporate value as well as an equal partner with senior management.
Preface.
Acknowledgments.
CHAPTER 1 Building the Case for Being a Strategic Treasurer.
Volatility and Turbulence as Opportunity.
Resiliency, Diversification, and Due Diligence.
Being a Strategic Business Partner.
It Is Good to Be Needed.
Technology Has Improved.
Summary.
CHAPTER 2 First Things for the New Treasurer.
Study the Business.
Assess Treasury.
Identify Risks.
Socializing Your Assessment.
Put Your Team Together Like a Puzzle.
Creating and Socializing the Vision and Plan.
A Time for Action.
Ongoing Intellectual Curiosity.
Summary.
CHAPTER 3 Being a Partner, Not a Vendor.
Avoiding Inevitable Pitfalls.
Keeping in Between the Two Lines.
Know What Is Important to the Organization and to Its Partners.
Summary.
CHAPTER 4 Managing Relationships.
Scope of the Relationship Management Plan.
Key Components of a Relationship Management Plan.
Plan and Process for Accomplishing the Objectives.
Rationale for Formally Documenting Relationships.
Request for Proposal.
Summary.
CHAPTER 5 Owning Cash and the Five Os of Treasury.
The Os of Treasury.
Centralized or Decentralized Treasury.
Taking Ownership.
Protecting the Balance Sheet.
Summary.
CHAPTER 6 Cash Boot Camp for Treasurers.
Cash.
A Tale of Two Types of Cash.
Disbursement Example.
Collection/Receivable Example.
Discussion.
Technology Enables Appropriate Cash Recording and Reporting.
Cash Implications.
Summary.
CHAPTER 7 Owning Working Capital.
Two Definitions of Working Capital.
Two Different Measurements for Working Capital.
Working Capital Impact on Organizational Value.
Differences Between Liquidity and Historical Working Capital Measures.
Projecting Working Capital Usage and Variations.
Steps Needed to Optimize Working Capital.
Summary.
CHAPTER 8 Differences Between a Process View and a Silo View.
The Process Perspective Is Vital.
Symptoms of a Silo View.
Fighting the Silo Mentality with the Process.
Summary.
CHAPTER 9 Financial Risk Management, Part One: Considering Risk Through the Eye of the Beholder.
Risk.
Summary.
Notes.
CHAPTER 10 Financial Risk Management, Part Two: Altering the Risk a Company Faces to Match the Risk It Desires.
Risk Management Choices.
Possible Reasons for Hedging.
Value in Risk Management.
Volatility and Impact.
What to Hedge?
Financial Risk Management Process.
Treasurer's Role.
Black Swans.
When Do We Hedge?
No Cheers for Hedges; It's the Objective That Matters.
Summary.
Notes.
CHAPTER 11 Losses and Fraud: What Can Keep Treasurers Awake at Night.
Situations of Loss.
Fraud.
Summary.
CHAPTER 12 Communication: Mars and Venus: Minimizing Communication Conflict Between Treasurers and Controllers.
Cash.
Forecasting.
Working Capital.
Controls.
Summary.
CHAPTER 13 Building and Developing the Treasury Team.
Putting the Puzzle Together.
Developing the Team.
Summary.
CHAPTER 14 Understanding and Maximizing the Use of Treasury Technology Tools.
Technology Supports the Treasury Role, and Treasury Supports the Organization.
Treasury Technology Landscape.
Extension and Visibility Services.
Treasury Workstation and the Technology Landscape.
The Order of Activities.
Respecting Your Time: A Tale of Dashboards and Reports.
Other Treasury Systems.
Managing Financial Processes.
Summary.
Notes.
CHAPTER 15 Advice from Various Treasury Leaders.
Change Management.
Risk Management.
Relationship Management.
Mindset and Perspectives of the Treasurer.
Developing Treasury Staff.
Vision, Strategy, and Execution.
Reading List.
Summary.
CHAPTER 16 Volatility and Liquidity Management.
Protecting the King.
Volatile Times.
Financial Crisis of 2007+.
Financial Instrument Risk.
Counterparties.
Foreign Exchange Rates.
Commodities.
Rating Agencies.
Banks and Insurance Companies.
Governments.
Summary.
CHAPTER 17 Achieving Visibility to Your Liquidity: Visibility and Process-Automation Requirements for the Strategic Treasurer.
Achieving Visibility to Liquidity Requires Internal and External Data.
Prerequisites to Achieving Visibility.
Connecting Through Networks.
Assessing Threats and Impacts to the Organization's Liquidity.
Summary.
CHAPTER 18 Envisioning Treasury in the Future.
Treasury's Role in the Corporation.
Stewardship: Technology Developments and Green Treasury.
Everything as a Service: Cloud Computing Comes to Treasury.
Visibility and Risk Management.
Relationship Power Shifts.
Liquidity and Balance Sheet Management.
Chairing the Working Capital Council and Advising Business Areas.
Cash, Checks, and Miscellaneous Projections.
Some Things Will Not Change.
Summary.
CHAPTER 19 "Not-to-Do" List for the Treasurer.
Relationship Management.
Technology Decisions and Perspectives Don'ts.
Staffing, Resources, and Consultants.
Projects and Communication.
Decisions, Debates, and Assumptions.
The Crowd: Follow or Take the Road Less Traveled.
Some Basics.
Summary.
Appendix.
Index.