The Strategy Pathfinder: Core Concepts and Live Cases, 2nd Edition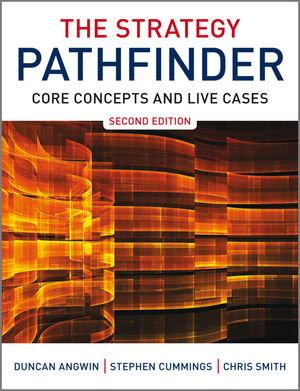 The Strategy Pathfinder: Core Concepts and Live Cases, 2nd Edition
ISBN: 978-0-470-68946-2
Mar 2011
472 pages
Product not available for purchase
Description
This new edition of the popular The Strategy Pathfinder updates the micro-cases of real-life problems faced by companies and executives. These micro-cases help readers to engage with the kinds of situations they will encounter in their working lives while provoking discussions about key theoretical themes. Original presentation and design makes this an essential companion for both the business-school classroom and the executive briefcase. The Strategy Pathfinder brings experienced and potential executives alike an instant guide to the concepts and techniques they need to know.
An innovative introduction to strategy.
Makes readers active "producers" of strategy, rather than passive recipients of received wisdom.
Presents essential pathways through the strategy jungle.
Each case provokes discussion about a key theoretical theme.
Encourages readers to form a view themselves, and then test it against the views of others, before offering recommendations about how best to proceed.
Cases are drawn from Africa, the Americas, Asia, Europe and Oceania.
Supported by online lecturer supplements.
The Strategy Pathfinder Map.
Pathways to Strategy.
About the Author's.
PART I THE STRATEGIC ENVIRONMENT.
1. Macro-Shocks.
2. Movers and Shakers.
3. Industry Dynamics.
PART II THE STRATEGIC ORGANIZATION.
4. Corporate Strategy.
5. Strategic Positioning.
6. Corporate Identity.
7. Organic Strategy.
PART III STRATEGIC ADVANCES.
8. Crossing Borders.
9. Guiding Change.
PART IV STRATEGIC FUTURES.
10. Sustain Ability.
11. Maverick Strategies.
Integrative Cases.
Using The Strategy Pathfinder 2nd Edition for Assessments and Examinations.
Primary Chapter and Case Authors.
Notes.
References.
Acknowledgements.
Glossary of Core Strategic Management Concepts.
Index.
To access the Instructor content for the 3rd Edition please follow this link.
Micro-cases popular with exec students: the micro-cases engage the audience and stimulate class discussion while keeping the student connected to the relevant theoretical debates. Up-to-date coverage: The wide variety of short current case examples gives rapid exposure to current practical issues affecting strategic choice. Practical for teaching: Perfectly suited to modular teaching in business schools.