The Strawberry Statement: Notes of a College Revolutionary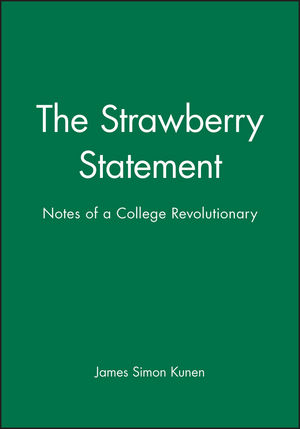 The Strawberry Statement: Notes of a College Revolutionary
ISBN: 978-1-881-08952-0
Aug 1995, Wiley-Blackwell
168 pages
Description
The student rebellions of the 1960s caught through the eyes of a Columbia College undergraduate during the spring of 1968. A classic that sold 35,000 copies in hardcover, The Strawberry Statement retains its appeal to college students sensitive to the world's injustices while confronting their own adult future.
Preface to the Brandywine Press Edition.
Intro 1---About the Book.
Intro 2---Who Wrote the Book.
Intro 3---Who We Are.
Intro 4---How the Book Was Written.
Before the Shit Hit the Fan at Columbia.
The Shit Hits the Fan.
Aftermath.
Summer in the City and Other Downs.
Poscript.
Explanatory Note.
Afterword.
About the Author
"Wise, reasonably humane, very funny.... I'm suddenly very hopeful about my country again, knowing that a brilliant and honest young citizen like Mr. Kunen is coming along." --Kurt Vonnegut, Jr.
"An elegant literary stylist, always seeing himself as though through an ironic eye on the ceiling above the scene of action, in command of an affecting wistfulness that makes him seem a sort of politicized Dustin Hoffman.... Moving, troubling, assertive, and eloquent." --John Leonard, The New York Times

"Kunen might be described as a young, soft-core radical--a kind of New Left Charlie Brown.... You're a good man, James Simon Kunen, and worth listening to." --William Bradee, Book Week

"Like Yossarian, Kunen is acutely sensitive to the inconsistencies and absurdities that mark this world, and he writes with a shrewd sense of irony about it--and himself." --Robert A. Gross, Newsweek