The Stress Test Every Business Needs: A Capital Agenda for Confidently Facing Digital Disruption, Difficult Investors, Recessions and Geopolitical Threats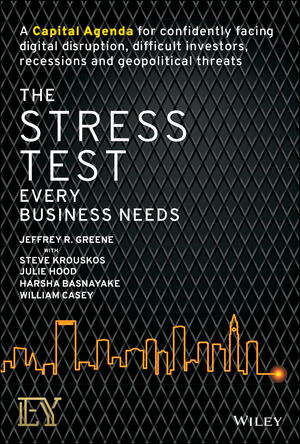 The Stress Test Every Business Needs: A Capital Agenda for Confidently Facing Digital Disruption, Difficult Investors, Recessions and Geopolitical Threats
ISBN: 978-1-119-41813-9
Aug 2018
256 pages
Product not available for purchase
Description
Organizations face a growing employee health cost crisis that threatens to swallow profits and drain the vitality of their workforce--unless we adopt a radically different approach to workplace health and well-being. Companies spend an average of $12,000 per employee on health benefits, a sum estimated by the Cleveland Clinic to double by 2025. But the hidden costs of absenteeism, disengagement and turnover costs businesses an estimated $1.2 trillion a year. In "The Healthy Workplace Nudge," author Rex Miller explains the findings of research and interviews with more than 100 corporate leaders and experts over a two-year project. This first ever multi-disciplinary research initiative led to several dramatic surprises, which challenge conventional business assumptions about how to improve workplace health and well-being:
95% of traditional wellness programs fail to improve health or lower costs
If leaders don't work toward a culture of employee "well-being" (more happiness and less stress) wellness programs are futile
Shifting group behavioral using behavior economics proves more effective than incentivizing individual behavior
Healthy buildings and environments deliver your strongest ROI for improving health
Healthy culture is ultimately the most effective and sustainable health strategy
Tying health and wellness strategy to employee experience and culture is essential to effective implementation
Contents
Acknowledgments
Chapter 1 How resilient is your Capital Agenda?
Jeffrey R. Greene
Chapter 2 Can your strategy thrive in a digital world?
Tony Qui and Glenn Engler
Chapter 3 How can you pre-empt activist shareholders?
Shyam Gidumal
Chapter 4 How should you restore a distressed company to health?
Andrew Wollaston and Donald Featherstone
Chapter 5 Are strategy, finance and operations integrated for optimal value creation?
Sharath Sharma and Daniel Burkly
Chapter 6 How can you get the most out of your advisors?
Giri Varadarajan and Aayush Tulsyan
Chapter 7 Do you understand the intrinsic value of your company, and how to manage it?
Daniel Burkly
Chapter 8 Are you allocating capital across the enterprise to reduce C-suite stress?
Jeffrey R. Greene
Chapter 9 Are your portfolio reviews timely, objective and thorough?
Jeffrey R. Greene and Jeff Wray
Chapter 10 Is tax planning a full partner in building resilience and driving value?
Bridget Walsh and Erica Lawee
Chapter 11 Do your acquisitions consistently pay off for shareholders?
Brian Salsberg
Chapter 12 Are you planning and executing divestments for maximum value?
Paul Hammes and Subin Baral
Chapter 13 Do your financing choices support flexibility and efficiency?
K.C. Brechnitz
Chapter 14 How well does your working capital management contribute to cash flow and earnings?
Sven Braun and Steve Payne
Chapter 15 Will your strategic goals ensure your company reaches its full potential?


William Achtmeyer and John Trustman


Glossary


Contributor Biographies


Index