The Structure of Materials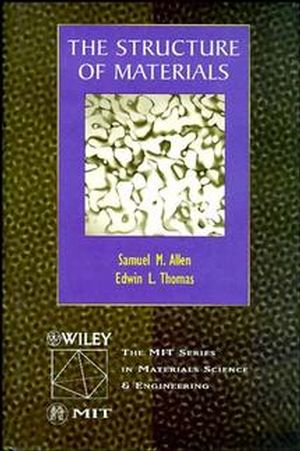 The Structure of Materials
ISBN: 978-0-471-00082-2 February 1999 464 Pages
Description
Allen and Thomas offer a concise approach to teaching and learning the structure of materials. Their presentation is consistent with the way future scientists and engineers will need to think about materials in order to select, design, and use materials to their best advantage.
This text focuses on three different states of condensed matter—glasses, crystals, and liquid crystals—and is developed through the same set of tools, describing all three states.
This text is suitable for an undergraduate or graduate course in materials structure. The text can be used as a main text or as supplemental material.
The Structure of Materials: Overview.

Noncrystalline State.

Crystalline State.

Liquid-Crystalline State.

Imperfections in Ordered Media.

Microstructure.

Index.
Breadth of coverage. Text presents coverage of all types of materials. Teaches students to be materials scientists/engineers rather than specialists in only one material.
Distills structural principles common to all materials. Makes student learning more efficient by focusing on principles and not on specific details.
Atomic and molecular models made with state-of-the-art modeling software. Models are made to indicate relative atomic/molecular sizes using appropriate atomic/ionic radii.
Many example problems, exercises, and figures.
References and additional readings at the end of chapters point to other treatments and more details.
Part of the Wiley MIT Series in Material Science. Other titles in the series include:

Rangone: Thermodynamics of Materials Vols. I and II
Chiang: Physical Ceramics: Principals for Ceramic Science and Engineering
Livingston: Electronic Properties of Engineering Materials