The Structure of Metaphor: The Way the Language of Metaphor Works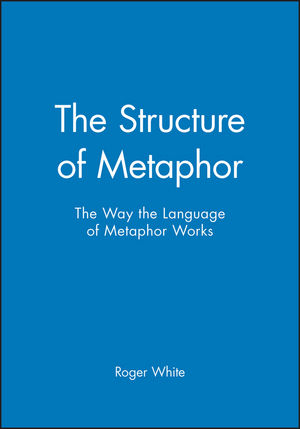 The Structure of Metaphor: The Way the Language of Metaphor Works
ISBN: 978-0-631-16811-9 June 1996 Wiley-Blackwell 360 Pages
Description
This volume provides a philosophical introduction to and analysis of the study of metaphor. By proceeding from the concrete analysis of complex metaphors, White is able to identify a range of features which are incompatible with standard accounts of the way words function in metaphor.
Table of contents
Acknowledgements. List of Abbreviations. Introduction. Part I: Metaphors as Linguistic Hybrids: 1. The Two Vocabularies of a Metaphor. 2. Bifurcation. 3. Ambiguity of Construal. 4. Metaphors as Sentences. 5. Underdetermination. 6. A Theory of Metaphor. 7. The Phenomena of Metaphor 1: Some Examples of Metaphor. 8. The Phenomena of Metaphor 2: Some Ways of Complicating the Metaphoric Structure. Part II: Some Conclusions: 9. Four Types of Theory of Metaphor. 10. The Impossibility of Metaphorical Sciences. 11. The Ordinary Meaning of the Sentences. Appendix: Metaphorical Prediction. Notes. Bibliography. Index.
Features
* Includes overview of all major theories of metaphor.