The Structured Credit Handbook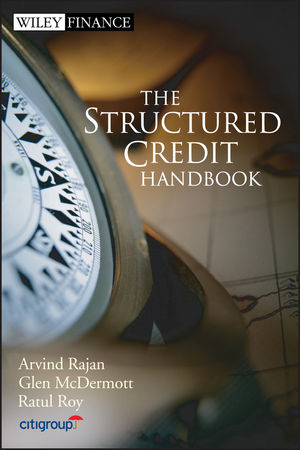 The Structured Credit Handbook
ISBN: 978-0-471-74749-9
Feb 2007
496 pages
Description
The Structured Credit Handbook is a comprehensive introduction to all types of credit-linked financial instruments. This book provides state-of-the-art primers on single tranche collateralized debt obligations (CDOs), collateralized loan obligations (CLOs), credit derivatives (such as credit default swaps and swaptions), and iBoxx indexes. Filled with in-depth insight and expert advice, The Structured Credit Handbook covers all aspects of the synthetic arbitrage CDO market, including new instruments such as CDO2. Readers will also gain a firm understanding of the investment rationale, risks, and rewards associated with CDO investments through this valuable resource.

The exploding use of credit derivatives and collateralized debt obligations (CDOs) has transformed the world of credit, creating an $18 trillion market almost overnight and resulting in innumerable investment and career opportunities globally. The Structured Credit Handbook provides the reader with a comprehensive and clear roadmap to today's new credit landscape. The full spectrum of structured credit products, from single-name CDS to CDOs, is explained in a simple, clear fashion that is free from the financial jargon and mathematical complexity which characterize many other derivative texts. The handbook begins with an in-depth explanation of the building blocks of the structured credit markets, single-name default swaps and indexes, and it culminates with complex products such as credit options, synthetic tranches, CDOs based on bank loans and asset-backed securities, and CDO-squareds.

Written by experienced practitioners who have participated in this market since its infancy, each of the thirteen chapters introduces and analyzes a new product and explains its practical applications. A rich set of real-life case studies illustrate the application of each product in a concrete market setting. The book may be used in a semester-long course on structured credit as part of a business or finance curriculum. Whether you are a market professional, a university student or faculty member, or simply a financially savvy layperson, look no further for an up-to-date and thorough introduction to this rapidly growing and exciting field.

Dr. Arvind Rajan, Managing Director, Citigroup Global Markets, is engaged in proprietary trading of Structured Credit products, and until recently, was global head of Structured Credit Research and Strategy at Citigroup. Glen McDermott (New York, NY) is Director of Fixed Income Sales and the former head of CDO Research at Citigroup Global Markets Inc. Ratul Roy is head of CDO Strategy for Citigroup Global Markets and has spent the prior nine years in structuring or analyzing CDOs and other structured credit products.
Buy Both and Save 25%!
Original Price:$190.00
Purchased together:$142.50
save $47.50
Cannot be combined with any other offers.
Buy Both and Save 25%!
Original Price:$274.00
Purchased together:$205.50
save $68.50
Cannot be combined with any other offers.
Acknowledgments.
About the Authors.
About the Contributors.
Introduction: A Roadmap of the New World of Structured Credit.
How Structured Credit Completes Markets.
Enabling Technology.
Improved Liquidity, Transparency, and Customizability.
Growth of Structured Credit Markets.
Core Uses of Structured Credit.
Who Should Read This Book?
How This Book Is Organized.
PART ONE: Index and Single-Name Products.
CHAPTER 1: A Primer on Credit Default Swaps (Arvind Rajan).
The Market for Credit Default Swaps.
Transaction Terminology and Mechanics.
Prerequisites for Credit Derivatives Transactions.
Some Uses of Default Swaps.
Case Study: Relative Value—Cashing In on the Curve Steepness in Telecoms.
Appendix: Equivalence of a Bond Spread and Default Swap Premium.
CHAPTER 2: Credit Default Swaptions (Arvind Rajan and Terry Benzschawel).
Payer Options.
Receiver Options.
Credit Swaption Payoffs in Default.
Conclusion.
Case Study: Are Tight Spreads Giving You Butterflies?
CHAPTER 3: Constant Maturity Credit Default Swaps (Olivier Renault and Ratul Roy).
Basics of CMCDSs.
Participation Rate.
Behavior of CMCDSs.
Capped CMCDS.
Hedging CMCDSs.
Trading Strategies with CMCDSs.
Conclusion.
Case Study: Taking Curve Views with CMCDSs.
Appendix: Computing the Participation Rate.
CHAPTER 4: Credit Derivatives Indexes (Jure Skarabot and Gaurav Bansal).
Introduction.
Family of Credit Derivatives Indexes.
Structure of the CDX/iTraxx Index Family.
Administration of Indexes.
Basket of Credit Default Swaps.
Up-Front and Running Payments.
What Happens in Case of a Credit Event?
Settlement Process after Credit Event.

Recent Defaults in CDX Indexes.
Index versus Intrinsics.
Investment Strategies with Credit Derivatives Indexes.
Conclusion.
Case Study: DJ CDX HY and DJ CDX EM—Conversion of Price Level into a Spread Level.
Case Study: Using iTraxx to Replicate Bond Portfolios.
Appendix: Description of the Roll Process.
CHAPTER 5: The Added Dimensions of Credit—A Guide to Relative Value Trading (Matt King and Michael Sandigursky).
Overview of Curve Trades.
Putting on a Curve Trade.
Cross-Currency Trades.
Basis Trades.
Debt-Equity Trades.
iTraxx Credit Indexes.
Credit Options.
PART TWO: Portfolio Credit Derivatives.
CHAPTER 6: Single-Tranche CDOs (Jure Skarabot, Ratul Roy, and Ji-Hoon Ryu).
Overview of Single-Tranche CDOs.
Case Study: Dispersion Trades and Tranches.

Case Study: Attractions of Hedged Mezzanines.
CHAPTER 7: Trading Credit Tranches: Taking Default Correlation out of the Black Box (Ratul Roy).
The Credit Tranche Market.
Skew in Default Correlation.
Trading Opportunities for Investors.
Conclusion and Future Agenda.
Case Study: Curve Trades in Tranche Markets.
CHAPTER 8: Understanding CDO-Squareds (Ratul Roy and Matt King).
CDOs versus CDO2.
Value of CDO2s Derives Broadly from Inner CDOs.
CDO2 versus Inner CDO.
Like Mezzanine, but with Tails.
CDO2 versus Master CDO.
Economic Value versus Rating Quality.
Uses of CDO2: Long, Short, and Correlation!
Structures: Good, Bad, and Ugly.
How Managers Can Add Value.
Conclusion.
Case Study: Term Sheet.
CHAPTER 9: CPPI: Leveraging and Deleveraging Credit (Olivier Renault).
Product Mechanics.
Managed CPPIs.
Case Study: Performance Comparison of Strategies.
Appendix: Our Methodology.
PART THREE: Collateralized Debt Obligations.
CHAPTER 10: Collateralized Loan Obligations (Glen McDermott, William E. Deitrick, Alexei Kroujiline, and Robert Mandery).
Leveraged Loan Market Overview.
Pro Rata Loans.
Middle-Market Loans.
European Leveraged Loans.
European Mezzanine Bank Loans.
Collateralized Loan Obligations.
Conclusion.
Middle-Market CLO Handbook.
Conclusion.
Appendix A: Middle-Market Loan Characteristics.
Appendix B: The Basic CLO Structure.
Case Study: CDO Combination Securities—Tailoring Risk/Return Profiles.
CHAPTER 11: ABS CDOs (Ratul Roy and Glen McDermott).
Overview of the Structured Finance Market.
Major Characteristics of Structured Finance Securities.
CDOs of Structured Finance Securities.
Conclusion.
Case Study: Relative Value in High-Grade Structured Finance CDOs.
Case Study: Untangling Mezzanine and High-Grade Structured Finance CDOs.
Appendix: Rating Transition Matrices of Common Structured Finance Collateral.
CHAPTER 12: CDO Equity (Glen McDermott and Alexei Kroujiline).
Cash Flow CDO Income Notes.
Return Analysis.
Collateral Manager.
Asset Characteristics.
Structure.
Conclusion.
Case Study: Diversifying Credit Risk Using a CDO Equity Fund.
CHAPTER 13: Commercial Real Estate CDOs (Darrell Wheeler and Ratul Roy).
CRE CDOs by the Numbers.
Building Blocks of a CRE CDO.
CRE CDO Managers and Sponsors.
CRE CDO Investors: A Diverse Group.
Key Events in the CRE CDO Market.
Investor Analysis of CRE CDOs.
Additional Suggested Collateral Analysis.
Appendix: List of CRE CDOs.
Glossary.
Term Sheet.
Notes.
Index.