The Success Healthcheck for IT Projects: An Insider's Guide to Managing IT Investment and Business Change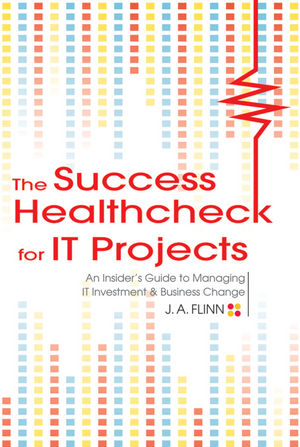 The Success Healthcheck for IT Projects: An Insider's Guide to Managing IT Investment and Business Change
ISBN: 978-0-470-82611-9
Aug 2010
320 pages
Description
Downsizing, outsourcing and the accelerating pace of change have led to project management becoming one of today's hottest disciplines. Project management is about managing ad hoc, one-off projects instead of ongoing operations. Effective project management delivers better ROI, better benefits realization. Focusing on diagnostics, tangible outcomes and solutions, The Success Healthcheck for IT Projects identifies 8 leading indicators of success, ranging from how the project is set-up, to it's ability to deliver results within the business. The book covers how to assess the likely success of the project using the current IT project portfolio track record and provides diagnostics for a specific project. It shares over 35 real life stories from projects in a direct, pacey conversational style.

On the $10,000 project, these methods provide focus. In very large IT based transformation projects, these methods have saved up to $30,000,000 and improved benefits between 20-80%.

This is for project team, project manager, portfolio managers, CIOs and the business executives who want business benefits to be realized. This books helps project sponsors and project managers deliver Predictable Accountable Results (PAR) from projects.
Foreword.
Acknowledgments.
Introduction: In The Beginning There Was…a project that succeeded.
Success.
Founded on Robust Research.
Prestory.
PART 1: PRODUCTIVITY.
Chapter 1: IT Projects Are Investments.
The Back Story on Productivity.
The Productivity Challenge and IT.
CEOs Say They Cannot Continue to Introduce Change in the Same Way.
What Is Success?
Project Failure Is the Untapped Source of Productivity Growth.
Why This Failure Rate Continues to Exist.
Improving Productivity Is a Process.
Survival of the Fittest.
Takeaways.
Chapter 2: Measure Success.
Measuring the Cost of Project Failure.
The Functional Yield Measures of IT Project Productivity.
Simple Return on Investment.
The Functional Yield.
The Cost of a Little Under to the Business.
Improving Project Productivity.
Takeaway.
Chapter 3: Take Action to Lift Success.
Publicly Acknowledge That Success Is Not Guaranteed.
Own Up to the NPP Ratio.
Yield and NPP Ratios.
Write-offs and Functional Shortfalls.
Value the Reduced Risk of Failure (to Achieve Business Results).
Results Risk ManagementTM.
Contingency Planning for Results Risks.
Accountability for Results Risk Management.
The Benefits of Setting Up for Success.
Address Risks to Success.
Repeated Project Failure Is a Governance Issue.
CIO Moment: Portfolio Governance and the 7 Keys to Success.
Predictable Accountable Results (PAR).
Takeaway.
Chapter 4: Benchmark Productivity from IT Projects: Evaluating the Cost of Failure.
Elements: Collecting Your Own Data.
Funds Budgeted and Spent.
Time.
Functions.
Perceived Value.
The Functional Yield in Reality—A Window into 3 IT Portfolios.
Takeway.
Chapter 5: Diagnosing Productivity Health.
The Results Diagnostics.
Project Health Factors.
Project Health Check.
Use of Good Practices.
Recognition of Business Experience with Projects.
Tangible Project ROI, or Hard Productivity Gains.
Project Health Diagnosis.
Get Your Data Together.
Project Health Diagnosis Summary.
Framing the Diagnostic for Decision and Action.
On Results.
Acting to Lift PAR.
Lift Project Performance by Addressing the Failure Rate.
Takeaway from Productivity.
PART 2: PROBABILITY.
Chapter 6: Talent Scouting—Spotting Success Early.
100 Percent of Projects Intend to Succeed.
Past Performance Predicts Future Performance.
Predicting Success.
All Projects Have Risks.
When to Assess Probability of Success.
Results and Success Take More than Delivery.
The Foundations of the 8-Fold Path to Project Success.
The Complications of Countries.
Dangers in Overlooking the Obvious.
How to Set a Project Up for Success.
Why Start with Productivity.
Chapter 7: The 8-Fold Path to Project Success.
What Does this Look Like?
An Archetypal Project.
The Project.
What are Your Real Results?
Trust and Verify.
Chapter 8: Business Results Are a Process.
Results Delivery Process.
Maturity.
Maturity and Results Deliver Processes.
PART 3: PROJECT.
Chapter 9: Fold 1, Intent Is Clear.
Results Are… .
Return on Investment Implies Results.
Results Are Clearly Specified.
Generating Results.
Financial Results.
Results from Competitive Capacity or License to Operate Requirements.
Intangible Results.
Intentions of the Project Process.
Intended Time Frame for Results.
Intended Quality of Result: Quick Fixes or Strategic Change.
Intended Impact to Stakeholders.
Intent's Impact on the Broader Picture.
Takeaway.
Chapter 10: Fold 2, Business Case Is Robust.
Results of Investment: What's the Bottom Line?
What Is the Real Investment?
Quality of Business Case.
Evaluating the Business Case Financials.
Bottom-Line Value.
Now, a Secret… .
Working Around This Secret.
Project Results Sensitivity.
Takeaway.
Chapter 11: Fold 3, Results Delivery Process Is Reliable.
How Reliable is the Results Delivery Process?
Simplifications Undermine the Results Delivery Process.
KISS: 6 Keep It Simple Symptoms.
Takeaway.
Chapter 12: Fold 4, Motivation Is Energized.
Risk: Accept or Reject—People Are Part of the Business Results Equation.
…the Likely Response.
Adaptability.
Resistance—Psychology Not Taught at School.
Resistance Can Be Sensible.
Motivation Is Multifaceted.
Where Do Interest, Engagement, and Energy Go?
Conflicting Interests: Rational Dysfunctions.
People Choose to Act or to Ignore the Project.
Takeaway.
Chapter 13: Part 3 Takeaway.
Your Assessment.
PART 4: PRESENCE.
Chapter 14: Background to Part 4.
Process: Success in the Business Context.
Business Results from IT Projects Require Continued Presence.
Present to Future Implementation Issues.
Collateral Damage Costs.
An Archetypical Business System.
Diagnosing the Business Context for Success.
Chapter 15: Fold 5, Project Aligns to Current Strategic Position.
Risks to Business Results from the Strategic Context.
Strategic Context Affects Results.
Leadership and Vision Affect Results.
Culture Affects Results.
Takeaway.
Chapter 16: Fold 6, Operational Context Supports Project Intent.
Operational Context Reinforce.
IT Practices and Projects.
The People Thing and Projects.
Financial Policies and Project Results.
Takeaway.
Chapter 17: Fold 7, Flow Favors Project Intent.
Previous Experiences with Change in the Business.
Quality of Local Management.
Reputation of the Project.
Takeway.
Chapter 18: Fold 8, Balancing Dynamics to Aid Project Intent.
Pace.
Tipping Points.
Rain, Erosion, Landslides, and Growth.
Toxic Build-Up.
Regrowth Rates and Burnout.
Bulldozers, Slash and Burn, and Other Ways to Destroy.
Short-Termism and Expediency.
Burnout.
Moving with Time.
Takeaway.
Chapter 19: Lifting Performance from Failure to Success.
Diagnostic: What are the Risks to Business Results?
Are Business Results Probable?
Project Risks to Results Assessment.
Presence of Risks from Business Context Assessment.
Expected Results from the Project.
Identifying the Risks to Address.
CIO Moment: Credibility Check.
Take Action to Improve Business Results from IT Projects.
PART 5: PERFORMANCE.
Chapter 20: Where To? Success Is a Journey, Not a Destination.
Leadership Implications.
Assess Risks, Take Action.
Performance Reflects Proficiency.
Experience Is More than Headlines.
Where Are You Now?
Where Do You Want to Be?
Begin with Accountability for Results.
Refine Predictability at the Project Level.
Track Risk and Results.
Perseverance.
The Leadership Challenge.
Triage.
It Is Personal.
Begin with the End in Mind.
Success and Courage.
Appendix A: Calculating the Functional Yield.
Appendix B: CIO Moment—Results Track Record.
Appendix C: The Basic Health Check: Warning Signs.
Take Action and Identify the Risks to Address.
Appendix D: The Cost of Lightweight Business Cases.
Appendix E: Requirements are not Always Words.
Bibliography.
Index.