The Survival Guide to Architectural Internship and Career Development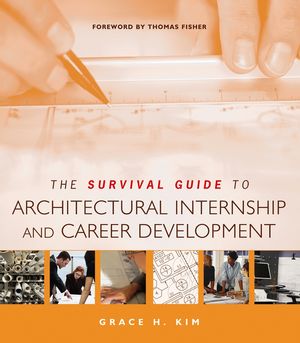 The Survival Guide to Architectural Internship and Career Development
ISBN: 978-0-471-69263-8
Feb 2006
272 pages
Product not available for purchase
Description
Written by Grace Kim, a young architect who has worked in large and small firms and started her own firm, this is a concise, helpful guide to understanding the choices and decisions you will confront on the road from student to practitioner. Whether you are currently an architecture student, starting the internship process, taking the registration exams, or beginning your own firm, this book demystifies the process for you.
FOREWORD: Surviving Internship.
ACKNOWLEDGMENTS.
CHAPTER 1: INTRODUCTION.
Becoming an Architect: An Overview.
CHAPTER 2: FINDING THE RIGHT FIRM FOR YOU.
Where to Start.
Finding the Right Firm.
CHAPTER 3: THE JOB SEARCH.
Getting Your Stuff Together.
Applying to Large Firms.
Following Up.
The Interview.
Stories from the "Front Lines".
Resources.
CHAPTER 4: INTERN DEVELOPMENT PROGRAM.
What Is IDP?
The Lingo.
Where to Get Info.
Who Is Affected?
When to Sign Up.
Costs.
Documentation.
Making Your Categories Count.
Transmitting Your Records to Your State Board.
Who Is Involved?
IDP Coordinators.
Keep Others Informed of Your IDP Activity.
Difficult Training Categories.
Talk with Other Interns.
Emerging Professionals Companion.
Using IDP to Your Professional Advantage.
Community and Professional Service.
Does My Past Work Experience Count?
Foreign Experience.
Working for Contractors, Engineers, and Others.
Bumps in the Road (Frequently Asked Questions about IDP).
Taking Matters into Your Own Hands.
Navigating the Process Successfully.
IDP Web Sites.
CHAPTER 5: THE ARCHITECT REGISTRATION EXAM.
The Changing Culture of the Exam.
ARE Basics.
The Application Process.
Costs.
Moving from State to State.
Preparing for the ARE.
Scheduling Your Exam.
What to Expect at the Testing Center.
After Your Exam.
The Last Exam.
Now That You're Registered.
AIA versus RA—What Do the Titles Mean?
Success Stories.
CHAPTER 6: PROFESSIONAL PRACTICE.
Compensation.
Contract Employees.
Ownership of Work.
Nonsanctioned Use of Office Equipment.
How the Little Things Add Up.
Moonlighting.
Giving Notice.
Getting Laid Off.
CHAPTER 7: PROFESSIONAL DEVELOPMENT.
Performance Reviews.
How to Prepare for a Performance Review.
Asking for a Raise.
Asking for a Promotion or More Responsibility.
IDP as a Career Development Tool.
Self-Promotion, or "Tooting Your Own Horn".
Continuing Education.
Building an Area of Expertise.
How to Get the Most Out of Conferences and Seminars.
Certificate Programs.
How to Get Your Employer to Pay.
Going Back to School.
Design Competitions.
Fellowships and Research Grants.
CHAPTER 8: HOW DO OTHERS GET THROUGH THIS?
The Five Collaterals.
ArchVoices: Started by Interns for Interns.
Archinect.com: Virtual Mentoring.
American Institute of Architecture Students.
AIA Young Architects Forum.
AIA National Associates Committee.
Reaping What You Sow.
Other Groups.
Web Site Resources.
CHAPTER 9: MENTORSHIP.
Origin and Tradition.
The Impacts of Mentorship.
Roles and Responsibilities.
Considerations for Seeking a Mentor.
Create Networks.
Misery Loves Company.
How to Be a Good Mentee.
Drawing Boundaries.
Laddered Mentorship.
Modeling Mentorship.
Mentoring Resources.
CHAPTER 10: CHOOSING THE NONTRADITIONAL PATH.
Alternative Career Options.
Shaping the World around Us: Other Roles for Architects.
The Academic World.
CHAPTER 11: WORKING ABROAD.
How to Research Potential Jobs Abroad.
Visa Requirements.
Advice from Those Who Have Done It.
Fellowships.
CHAPTER 12: STARTING YOUR OWN FIRM.
Forms of Ownership.
Hanging Out Your Shingle.
The Business Plan.
Three New Firms.
CONCLUSION.
BIBLIOGRAPHY.
INDEX.
"The author successfully launched her own career and her own firm, and her insights are well worth reading." (Career Opportunities News, October 2006)
Quick, accessible, practical information
Explains key questions/issues that graduates should keep in mind when seeking first professional job with a firm.  
Includes profiles of interns and young architects and those who have taken a non-tradition career path.
Clearly explains the steps and processes leading to licensure, with tips on taking the exams as well