The Swahili: The Social Landscape of a Mercantile Society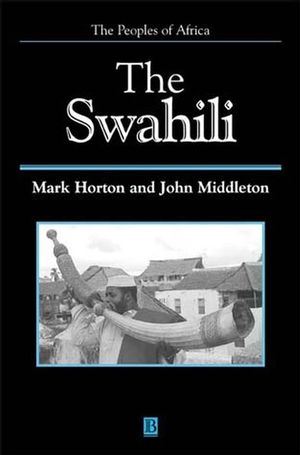 The Swahili: The Social Landscape of a Mercantile Society
ISBN: 978-0-631-18919-0
Mar 2001, Wiley-Blackwell
292 pages
Description
This wide-ranging volume integrates documentary sources and contemporary archaeological evidence to provide a comprehensive and up-to-date account of Swahili history, anthropology, language and culture.
Introduction.
1. The Swahili Coast.
2. Origins.
3. The Acceptance of Islam.
4. The Swahili Coast and the Indian Ocean World.
5. The Trading System of the Swahili Coast.
6. The Urban Landscape.
7. The Social Landscape.
8. Governance and Politics.
9. The Swahili in a Changing World.
10. Constructing the Mercantile Landscape.
Notes.
Bibliography.
Index.
"[Horton and Middleton's] portrait of the Swahili is drawn from multiple sources of data, including archival records, ethnographic fieldwork, and recent archaeological finds expertly providing comprehensive, up-to-date accounts if African peoples that are both scholarly and accessible."
CHOICE
<!--end-->
"Despite their high profile, the identity of the Swahili has been elusive to define. The sensible discussion of this issue by Horton & Middleton should finally put this question to rest ... The Swahili is a fine addition to the series on the peoples of Africa published by Blackwell. South African Archaeological Bulletin

"Well supplied with maps and plates depicting locales, excavations, and architecture, the book will be useful to a general readership, as well as to younger scholars interested in the African littoral. The archeological chapters are very informative."Greg Cameron, Journal of the Royal Anthropological Institute


Provides a comprehensive and up-to-date picture of the Swahili peoples.


A scholarly but accessible account of this famous yet little understood society.