The Symbian OS Architecture Sourcebook: Design and Evolution of a Mobile Phone OS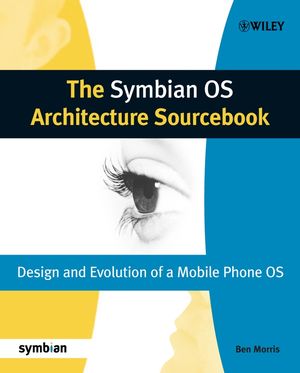 The Symbian OS Architecture Sourcebook: Design and Evolution of a Mobile Phone OS
ISBN: 978-0-470-01846-0 July 2007 630 Pages
Description
The current Symbian Press list focuses very much on the small scale features of Symbian OS in a programming context. The Architecture Sourcebook is different.

It's not a how-to book, it's a 'what and why' book. And because it names names as it unwinds the design decisions which have shaped the OS, it is also a 'who' book. It will show where the OS came from, how it has evolved to be what it is, and provide a simple model for understanding what it is, how it is put together, and how to interface to it and work with it. It will also show why design decision were made, and will bring those decisions to life in the words of Symbian's key architects and developers, giving an insider feel to the book as it weaves the "inside story" around the architectural presentation.

The book will describe the OS architecture in terms of the Symbian system model. It will show how the model breaks down the system into parts, what role the parts play in the system, how the parts are architected, what motivates their design, and how the design has evolved through the different releases of the system.

Key system concepts will be described; design patterns will be explored and related to those from other operating systems. The unique features of Symbian OS will be highlighted and their motivation and evolution traced and described.

The book will include a substantial reference section itemising the OS and its toolkit at component level and providing a reference entry for each component.
Buy Both and Save 25%!
Original Price:$154.00
Purchased together:$115.50
save $38.50
Cannot be combined with any other offers.
Buy Both and Save 25%!
Original Price:$194.00
Purchased together:$145.50
save $48.50
Cannot be combined with any other offers.
Author biography.
Acknowledgements.
Introduction.
Part 1:The Background to Symbian OS.
Why phones are difficult.
History and pre-history of Symbian.
Introduction to the Symbian OS Architecture.
A short introduction to Object Orientation.
Part 2:The Layered Architecture View.
The Symbian OS layered model.
The UI framework.
Application services.
OS Services: Generic, Graphics & Multimedia, and Connectivity Services.
Comms Services.
Base Services.
Kernel Services & Hardware Interface.
Symbian J2ME subsystem.
Notes on the Evolution of Symbian OS.
Part 3: Design Case Studies.
Case Study: The Use of Object-oriented Design in Symbian OS.
Case Study: Just Add Phone: The Phonification of Symbian OS.
Case Study: One Size Does Not Fit All: The Radical UI Solution.
Case Study: System Evolution and Renewal.
Case Study: Slaying the Dragon: Creative Zoo or Software Factory?
Part 4: Symbian OS Component Reference.
Symbian OS Component Reference.
Appendix.