The Synchronous Trainer's Survival Guide: Facilitating Successful Live and Online Courses, Meetings, and Events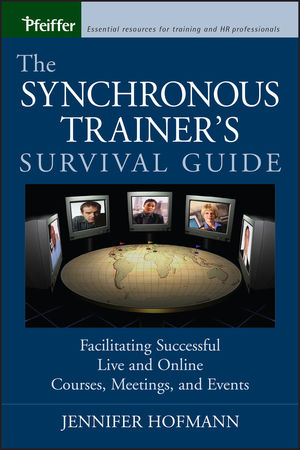 The Synchronous Trainer's Survival Guide: Facilitating Successful Live and Online Courses, Meetings, and Events
ISBN: 978-0-787-97176-2 August 2003 Pfeiffer 160 Pages
Description
The Synchronous Trainer's Survival Guide is a hands-on resource for enhancing your real-time e-learning sessions. Written by Jennifer Hofmann, a synchronous training leader, it is the first and only book focusing solely on this emerging training method. If you're new to synchronous training, everything you need to know is right here. If you're a seasoned pro the practical tips, tools, and customizable templates in this book will ensure the success of your online training courses, meetings, and events.
Table of contents
Preface.
Introduction.
1 An Introduction to the Synchronous Classroom.
New Versus Older Delivery Methods.
The Synchronous Classroom.
Synchronous Software.
2 Facilitating in the Synchronous Classroom.
Profile of an Effective Synchronous Trainer.
The Synchronous Trainer's Workstation.
The Producer.
Leader Guides for Trainer/Producer Collaboration.
3 Communicating in the Synchronous Classroom.
Using Visuals.
Using Your Voice.
Language Tips.
Gauging Participation.
Using the Collaboration Tools.
A Note on Class Size.
Rules of Thumb.
4 Synchronous Classroom Management.
Managing Time and Scheduling Issues.
Determining the Best Length for a Program.
Communicating with Class Participants.
Preparing to Facilitate the Class.
Using Your Leader Guide Effectively.
5 Managing the Technology.
Creating a Seamless Production.
Troubleshooting Technology.
6 Working with Synchronous Participants.
The Participant Experience.
Learning How to Learn Online.
Ground Rules.
The Effective Learning Environment.
Participant Guides.
7 Synchronous Events.
eMeetings.
Expert Q&A.
Webinars.
Learning Events.
A Final Thought.
Appendices.
A. Synchronous Software Features Checklist.
B. Synchronous Classroom Management Checklists.
C. Recommended Resources for Synchronous and Blended e-Learning.
D. A Glossary of Terms.
About the Author.
Index.
Pfeiffer Publications Guide.