The Systematic Identification of Organic Compounds, 8th Edition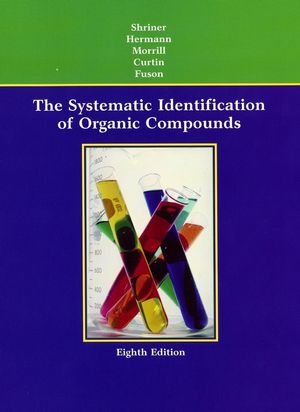 The Systematic Identification of Organic Compounds, 8th Edition
ISBN: 978-0-471-21503-5 August 2003 736 Pages
Description
First written in 1935, Shriner remains a classic text in the field. Coauthor Christine Hermann has introduced modern methods and topics and completely updated the illustration and photo program. The book is ideal for the Advanced Organic Lab and for Spectroscopy courses.
Table of contents
Chapter 1. Introduction.
Chapter 2. Identification of Unknowns.
Chapter 3. Preliminary Examination, Physical Properties, and Elemental Analysis.
Chapter 4. Separation of Mixtures.
Chapter 5. Classification of Organic Compounds by Solubility.
Chapter 6. Nuclear Magnetic Resonance Spectrometry.
Chapter 7. Infrared Spectrometry.
Chapter 8. Mass Spectrometry.
Chapter 9. Chemical Tests for Functional Groups.
Chapter 10. The Preparation of Derivatives.
Chapter 11. Structural Problems—Solution Methods and Exercises. 
Chapter 12. Chemical Literature.
Appendix I. Handy Tables for the Organic Laboratory.
Appendix II. Tables of Derivatives.
Appendix III. Equipment and Chemicals for the Laboratory.
Index.
New To This Edition
All photographs are new
Chromatography coverage is now all in one chapter
Chapter 4 contains the separation of mixtures based upon extractions and distillation techniques
Spectoscopy is now divided into three chapters:
Chapter 6-NMR Spectroscopy
Chapter 7-IR Spectroscopy
Chapter 8- Mass Spec and UV Spec
Many more problems have been added throughout
Features
Classic text, market leader since 1935
Consistently revised so that most up-to-date techniques and methods are included