The Tangible Kingdom: Creating Incarnational Community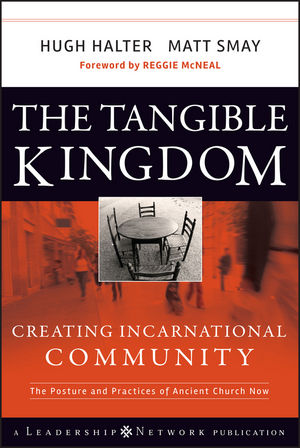 The Tangible Kingdom: Creating Incarnational Community
ISBN: 978-0-470-18897-2 April 2008 Jossey-Bass 224 Pages
Description
Written for those who are trying to nurture authentic faith communities and for those who have struggled to retain their faith, The Tangible Kingdom offers theological answers and real-life stories that demonstrate how the best ancient church practices can re-emerge in today's culture, through any church of any size. In this remarkable book, Hugh Halter and Matt Smay ""two missional leaders and church planters"" outline an innovative model for creating thriving grass-roots faith communities.
Foreword by
Reggie McNeal.
Acknowledgments.
An Invitation.
1. Fiona.
2. Elvis Has Left the Building.
3. Tremors.
4. U-Haul.
5. Moving Violations.
6. Posture.
7. The 1,700-Year Wedgie.
8. Paradigm.
9. Jipped.
10. Another Angle.
11. Lift Up the Hood.
12. Tip It Over.
13. The Hello Experiment.
14. Leaving.
15. Listening.
16. Living Among.
17. Loving Without Strings.
18. Inviting In.
19. Togetherness.
20. Oneness.
21. Otherness.
A Day in the Life.
Notes.
The Authors.
The Missional Church Apprenticeship Practicum.
Church Resource Ministries.
Index.