The Technology Leaders: How America's Most Profitable High-Tech Companies Innovate Their Way to Success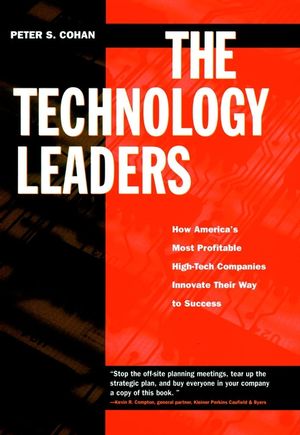 The Technology Leaders: How America's Most Profitable High-Tech Companies Innovate Their Way to Success
ISBN: 978-0-787-91072-3 July 1997 Jossey-Bass 193 Pages
Description
Follow America's High-Tech Leaders to Sustained Growth and Profitability

?With forceful and engaging style, Cohan describes what makes technology companies like Hewlett-Packard so successful....Any executive aspiring to market leadership should read The Technology Leaders.?
-- Dean O. Morton, retired executive vice president, COO and director, Hewlett-Packard Company

As organizations emerge from an era of epochal downsizing, managers are beginning to realize that repeated cost-cutting is no longer the path to sustained profitable growth. Clearly, a new strategy is called for. In this landmark work, Peter Cohan details the practices of today's most vital, prosperous companies -- America's high-tech leaders -- and demonstrates how other companies can follow their remarkable example and thrive in a hypercompetitive marketplace driven by rapid product innovation.
Table of contents
PrefaceThe Author
1. The Technology Leaders and Their Sources of Advantage:- The dynamics of technology-intesive industries- Implications of CEOs, chief technology officers, and others- Twenty technolgy leaders- Four sources of advantage that drive leaders' success- Linkage with return innovation
2. Entrepreneurial Leadership- Effective leadership- Winning culture- Topteam players- Decentralized decision making- Entrepreneurial incentives- CEO change agAnda
3. Open Technology I: Managing the Core- Indentify core technologies- Value core technologies- Focus on leverage-point technologies- Partner or acquire to close the capability gap- CEO change agAnda
4. Open Technology II: Syndicating the Noncore- Indentifying noncore technologies- Syndicating noncore technologies: Outplacing- Syndicating noncore technologies: Outsourcing- Managing external partnerships
5. Boundryless Product Dvelopment I: Running Fast Teams- Building cross-functional teams- Deploying project plans- Involving early adopters- Using prototypes- Product supply- CEO change AgAnda
6. Boundryless Product Development II: Creating Product Development- The value triangle- Understanding customer needs- Choosing product attributes- Managing technologies and other capabilities- Connecting the corners of the value triangle: An example from 3Com
7. Disciplined Resource Allocaton- Principles of betting on R&D- A method for managing the R&D portfolio- Capture portfolio learning- Construct portfolio grids- Develop phased project plans- Estimate cash flows- Build project decision trees- Calculate portfolio value- Manage resource allocation- Conclusion
8. The Innovation Scorecard- Return on Innovation- Leadership- Technology- Product development- Resource allocation- CEO change agAnda
9. Thoughts About the Future- General business landscape
ReferencesIndex
Reviews
?Peter Cohan has managed to look beyond the trAnds and fads that steer so many consultants and business observers and capture a fundamental fact: Understanding your customers and quickly responding to their changing needs with real value is the most essential ingredient of long-term business success. Nowhere is this more evident today than among the companies that have become leaders in our most technology-intensive industries. The Technology Leaders explores the reasons these companies have risen above the crowd in the world's most intensely competitive markets.? --Michael C. Ruettgers, president and CEO, EMC Corporation

?Hey, business executives! Wake up! Stop the off-site planning meetings, tear up the strategic plan, and buy everyone in your company a copy of this book. With Cohan's crisp description of the ?success cycle' and his cold slap-in-the-face reality of ?betting under uncertainty,' you'll rethink every decision after you put down this page-turner.? --Kevin R. Compton, general partner, Kleiner Perkins Caufield & Byers

?With a forceful and engaging style, Cohan describes what makes technology companies like Hewlett-Packard so successful. The book is full of practical insights illustrated with fresh examples. Any executive aspiring to market leadership should read The Technology Leaders.? --Dean O. Morton, retired executive vice president, COO and director, Hewlett Packard Company

?Peter Cohan has created a powerful tool for anyone working in the arena of creating great products from technology. By carefully dissecting the approaches taken by a wide series of strong and successful companies, he has distilled a great deal of useful wisdom. I enthusiastically recommAnd this new addition to the entrepreneurial literature.? --Robert J. Saldich, former president and CEO, Raychem Corporation

?Peter Cohan is an outstanding manager with a keen eye for value. His book gets behind the numbers of some of America's most profitable high-tech companies. With a clear and engaging style, he presents a framework that investors can use to pan for gold in today's flood of high-tech investment opportunities. If you want to pick tomorrow's winners, read this book!? --Peter S. Laino, director of development, K-III Communications Corporation