The Ten-Minute Trainer: 150 Ways to Teach it Quick and Make it Stick!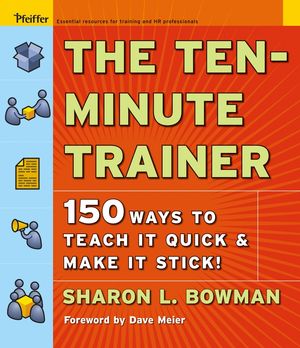 The Ten-Minute Trainer: 150 Ways to Teach it Quick and Make it Stick!
ISBN: 978-0-787-97442-8 September 2005 Pfeiffer 304 Pages
Description
Discover more than one hundred of Sharon Bowman's training-room-proven exercises and activities -- many derived from the high-impact strategies of NLP and Accelerated Learning -- and reduce delivery time, increase retention and improve knowledge and skill transfer. These back-pocket activities are easy, quick, topic-related, and fun, and you can draw on with a minimum of preparation.

The Ten-Minute Trainer features a variety of exercises, ranging from one to ten minutes in length, and provides content-specific exercises as well as activities for transitioning between topics and gauging understanding. You'll find a useful answer section that explains the brain research behind the book and a special section on learning styles that ties in with the philosophy of ""learn it fast and make it last.""

Order your copy of this effective resource today!
Foreword.
OPENING AND CONNECTIONS.
What's in It for You? Introducing You to The Ten-Minute Trainer.
PART ONE.
When They Do It, They Get It! 150 Activities to Make the Learning Stick.
Got a Minute? Sixty-Second Activities to Help Learners Repeat, Review, and Remember.
Connections.
Time Sponges.
Pair Shares.
Shout Outs.
Think and Write.
Signals.
Doodles.
Pop-Ups.
Mark-Ups.
Tickets Out.
Action Plans.
Celebrations.
Take Five! Five- and Ten-Minute Games That Help Learners RAP It Up: Reinforce, Apply, and Practice.
Postcard Partners.
The Gallery Walk.
Take a Stand.
Grab That Spoon!
Place Your Order.
Metaphor Magic!
Let's Trade.
Each One Teach One.
The Walkabout.
Blackout Bingo!
PART TWO.
Heads Up! Brain-Based Learning and Training.
Attention Maker, Attention Breaker: The Reticular Activating System and Learning.
Three Brains in One: The Triune Brain and Learning.
Let the Compass Be Your Guide: The Learning Compass and Learning the Natural Way.
Mapping Your Message: Making It Stick with the Training Map.
Power-Hour Training Templates: Time-Saving Design and Delivery Tools.
Power-Hour Training Template #1.
Power-Hour Training Template #2.
Power-Hour Training Template #3.
Power-Hour Training Template #4.
Power-Hour Training Template #5.
Power-Hour Training Sample: Using Template #1.
PART THREE.
More Timely Training Tools.
Get a CLUE! Four Elements to Increase Motivation and Memory in Learning.
You Said It But Did They Get It? How to Check for Understanding.
What's a Picture Worth? The Importance of Imagery in Learning.
Station Rotation: Learning a Lot in a Little Time.
CLOSING AND CELEBRATION.
So Now You Know! Celebrating Your Journey with The Ten-Minute Trainer.
Remarkable Resources.
Many Thanks!
About the Author.