The Terms of Democracy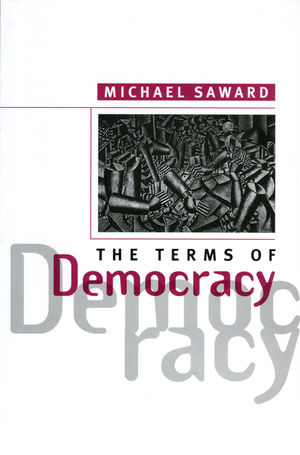 The Terms of Democracy
ISBN: 978-0-745-61990-3 January 1991 Polity 216 Pages
Description
The Terms of Democracy
shows how democracy makes radical demands upon political leaders and citizens alike. By setting out the terms of democracy in a fresh and systematic way, Michael Saward provides compelling responses to many troubling questions in democratic theory.
In a tightly-argued analysis, the book offers innovative accounts of the value of democracy, the links between direct and representative institutions, the question of political community, and trade-offs between democracy and competing values. Building on a justification for democracy which embraces scepticism, Saward argues that democracy means the responsiveness of government to citizens' wishes. He shows why direct democracy and an array of constitutionally guaranteed rights are crucial to democracy. A comprehensive framework for analysing trade-offs of democracy illuminates the interplay between democratic idealism and political realism. The discussion of political community cuts through conventional pessimism to show how democrats can respond positively to sub-group demands for autonomy. The Terms of Democracy will be welcomed by all those engaged in debates about democracy's present and future.
Table of contents
Introduction.
Part I: Justification:.
1. Strategies for Justification.
2. The Grounds of Political Equality.
Part II: Constituting Responsive Rule:.
3. Responsive Rule, Constitutionalism and Democratic Requirements.
4. Majority Rule and Direct Democracy.
5. Democratic Rights.
6. Democratic Institutions.
Part III: Community and Constraint:.
7. Political Units for Democracy.
8. Constrained Democracy.
Notes.
Bibliography.
Index.
Reviews
"Saward's
The Terms of Democracy
is a masterpiece of both erudition and concision. The clear analytical style and crisp critical synopses make it one of the best brief guides to democratic theory available today."
Robert E. Goodin, Research School of Social Sciences, Australian National University
"An impressive statement of the case for democracy. The book provides a rare combination of rigorous philosophical argument about principles with a scrupulous assessment of institutional practices in the light of those principles." David Beetham, Professor of Politics, University of Leeds
What's New
The book offers a single, integrated theory of democracy
Develops a distinctive and original approach to the key issues of the justification of democracy, the appropriate size of political units, and the trade-offs between democracy and other values eg economic efficiency
Links abstract theoretical arguments with quite specific accounts of democratic rights and institutions.