The Texas Heritage, 4th Edition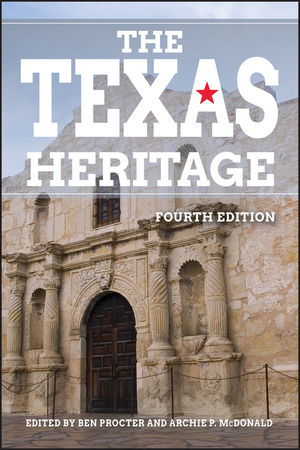 The Texas Heritage, 4th Edition
ISBN: 978-0-882-95994-8 January 2003 Wiley-Blackwell 364 Pages
Description
Featuring four entirely new essays as well as new maps, photographs, an appendix, and a comprehensive index, this latest edition of our popular text considers the history of Texas from the pre-Columbian period to the present.
A thoughtful balance of sequential and topical chapters, this engaging and affordable book-useful as a reader or as a concise core text-remains a favorite of student readers and instructors alike.
Table of contents
List of Contributions v
Introduction xi
Chapter One. American Indians in Texas 3
Mark Daniel Barringer
Chapter Two. Spain's Cultural Legacy in Texas 23
Félix D. Almaráz, Jr.
Chapter Three. Anglo-American Arrival in Texas 39
Archie P. McDonald
Chapter Four. Texas Independence 59
Archie P. McDonald
Chapter Five. The Republic of Texas 73
Stanley Siegel
Chapter Six. Statehood, 1845-1860 87
Michael L. Collins
Chapter Seven. Change and Continuity in Texas during the Civil War and Reconstruction 105
Alwyn Barr
Chapter Eight. Texas Transformed, 1874 -1900 121
Donald R. Walter
Chapter Nine. Progressivism in Texas 141
Norman D. Brown
Chapter Ten. Texas from Depression through World War II, 1929-1945 163
Ben Procter
Chapter Eleven. Modern Texas: The Political Scene since 1945 183
Kenneth E. Hendrickson, Jr.
Chapter Twelve. A People with Many Histories: Mexican Americans in Texas 205
Arnoldo De León
Chapter Thirteen. The Civil Rights Movement in Texas 225
Robert A. Calvert
Chapter Fourteen. Women in Texas: A Pioneer Spirit 247
Linda S. Hudson
Chapter Fifteen. The Cattle Frontier in Texas 271
Eddie Weller
Chapter Sixteen. The Oil and Gas Industry in Texas 287
George N. Green
Chapter Seventeen. The Texas Rangers: An Overview 309
Ben Procter
Chapter Eighteen Sports in Texas 321
James W. Pohl
Appendix 349
Index 353