The Textbook of Pharmaceutical Medicine, 5th Edition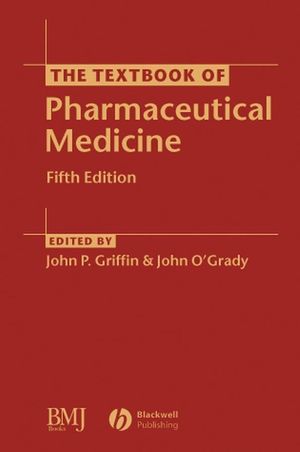 The Textbook of Pharmaceutical Medicine, 5th Edition
ISBN: 978-0-470-98726-1 April 2008 BMJ Books 880 Pages
Description
New edition of succesful standard reference book for the pharmaceutical industry and pharmaceutical physicians!
The Textbook of Pharmaceutical Medicine is the coursebook for the Diploma in Pharmaceutical Medicine, and is used as a standard reference throughout the pharmaceutical industry. The new edition includes greater coverage of good clinical practice, a completely revised statistics chapter, and more on safety. Covers the course information for the Diploma in Pharmaceutical Medicine



Fully updated, with new authors

Greater coverage of good clinical practice and safety

New chapters on regulation of medical devices in Europe and regulation of therapeutic products in Australia
Part I: Research and development
.
1 Discovery of new medicines .
Anand S Dutta.
2 Pharmaceutical development .
Gavin Halbert.
3 Preclinical safety testing .
David J Tweats.
4 Exploratory development .
John Posner.
5 Clinical pharmacokinetics .
Paul Rolan and Valeria Molnar.
6 Purpose and design of clinical trials .
Roger A Yates.
7 Conduct of clinical trials: good clinical practice .
Roger A Yates.
8 Medical statistics .
Andrew P Grieve.
9 Development of medicines: full development .
Alan G Davies and Peter D Stonier.
Part II: Medical department issues.
10 The medical department .
Darrall L Higson (with revisions by Peter D Stonier).
11 Medical marketing .
John H Young.
12 Information and promotion .
D Michael Humphreys.
13 The supply of unlicensed medicines for particular patient use .
Amanda Wearing and John O' Grady.
14 Legal and ethical issues relating to medicinal products .
Christine H Bendall and Christopher JS Hodges.
15 The safety of medical products .
A Peter Fletcher and Susan Shaw.
Part III: Regulatory aspects.
16 History of drug regulation in the United Kingdom .
John P Griffin and Rashmi R Shah.
17 Regulation of human medicinal products in the European Union.
Rashmi R Shah and John P Griffin.
18 European regulation of medical devices .
Christopher JS Hodges.
19 Technical requirements for registration of pharmaceuticals for human use: the ICH process.
Dean W G Harron.
20 The regulation of drug products by the United States Food and Drug Administration.
Peter Barton Hutt.
21 The US FDA in the drug development, evaluation and approval process.
Richard N Spivey, Judith K Jones, WilliamW ardell and WilliamV odra.
22 Past evolution and future prospects of the Pharma Industry and its regulation in the USA.
WilliamW ardell, WilliamV odra, Judith K Jones and Richard N Spivey.
23 Regulatory and clinical trial systems in Japan.
Yuichi Kubo.
24 The regulation of therapeutic products in Australia.
Janice Hirshorn and Deborah Monk.
Part IV: Pharmacoeconomic and other issues.
25 Economics of healthcare.
Carole Bradley and Jane R Griffin.
26 Controls on NHS medicines prescribing and expenditure in the.
UK (a historical perspective) with some international comparisons.
John P Griffin and Jane R Griffin.
Appendix 1: Declaration of Helsinki.
Appendix 2: Code of Practice for the Pharmaceutical Industry.
Appendix 3: Guidelines and Documentation for Implementation of Clinical Trials.
Appendix 4: Directive 2001/20/EC of the European Parliament and of the Council of 4 April 2001.
Index
New edition of succesful standard reference book for the pharmaceutical industry and pharmaceutical physicians


Coursebook for the Diploma in Pharmaceutical Medicine

Fully updated, with new authors

Greater coverage of good clinical practice and safety

New chapters on regulation of medical devices in Europe and regulation of therapeutic products in Australia