The Theology of Food: Eating and the Eucharist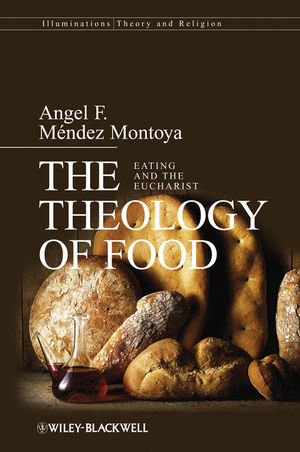 The Theology of Food: Eating and the Eucharist
ISBN: 978-0-470-67498-7 April 2012 Wiley-Blackwell 182 Pages
Description
The links between religion and food have been known for centuries, and yet we rarely examine or understand the nature of the relationship between food and spirituality, or food and sin. Drawing on literature, politics, and philosophy as well as theology, this book unlocks the role food has played within religious tradition.
A fascinating book tracing the centuries-old links between theology and food, showing religion in a new and intriguing light
Draws on examples from different religions: the significance of the apple in the Christian Bible and the eating of bread as the body of Christ; the eating and fasting around Ramadan for Muslims; and how the dietary laws of Judaism are designed to create an awareness of living in the time and space of the Torah
Explores ideas from the fields of literature, politics, and philosophy, as well as theology
Takes seriously the idea that food matters, and that the many aspects of eating – table fellowship, culinary traditions, the aesthetic, ethical and political dimensions of food – are important and complex, and throw light on both religion and our relationship to food
Table of contents
Foreword vi
Joaquín Racionero Page
Preface ix
Acknowledgments x
Introduction. Food Talk: Overlapping Matters 1
1 The Making of Mexican Molli and Alimentary Theology in the Making 11
2 Sabor/Saber: Taste and the Eros of Cognition 45
3 Being Nourished: Food Matters 77
4 Sharing in the Body of Christ and the Theopolitics of Superabundance 113
Conclusion. Food Notes: Prolegomenon to a Eucharistic Discourse 157
Index 161
Reviews
"Nevertheless, this is an inspiring interpretation of the possibility of reclaiming and reconnecting theology, food, and a fuller eucharistic life." (The Theology of Food, 1 October 2013)
"For all its erudition, this book is more complex and valuable than a simple examination of Christian consumption. It offers rich reflection on the prophetic and generous ways in which Christianity might still disciple consumers who desire the superabundant grace made material in the flesh of Jesus Christ."
(Theological Book Review, 2011)
"This much-needed book takes seriously the Churches' unique contribution to understanding the importance of food." (Church Times, 11 February 2011)
"Montoya's book is a delight to read, and is a significant contribution to the effort to apply theological thinking to the everyday realities of embodied life." (Modern Theology, April 2010)
"It is a thought provoking and engaging work on the role of the Eucharist in Christian life." (CHOICE, August 2009)
"This book deserves to be widely read and, if you will forgive the metaphor, digested." (Christian Century, June 2010)


"[T]his is an inspiring interpretation of the possibility of reclaiming and reconnecting theology, food, and a fuller eucharistic life." (Interpretation: A Journal of Bible and Theology)
Features


A fascinating book tracing the centuries-old links between theology and food, showing religion in a new and intriguing light

Draws on examples from different religions: the significance of the apple in the Christian Bible and the eating of bread as the body of Christ; the eating and fasting around Ramadan for Muslims; and how the dietary laws of Judaism are designed to create an awareness of living in the time and space of the Torah

Explores ideas from the fields of literature, politics, and philosophy, as well as theology

Takes seriously the idea that food matters, and that the many aspects of eating - table fellowship, culinary traditions, the aesthetic, ethical and political dimensions of food - are important and complex, and throw light on both religion and our relationship to food