The Theory of Choice: A Critical Guide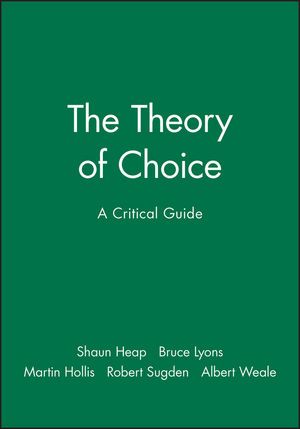 The Theory of Choice: A Critical Guide
ISBN: 978-0-631-18322-8 July 1992 Wiley-Blackwell 416 Pages
Description
The book is in three parts with a section of keywords. Part I covers individual choice , Part II examines interactive choice . The final part covers interactive choice .
Table of contents
Introduction.
Part I: Individual Choice:.
1. Rationality.
2. Consumer Theory.
3. How People Choose.
4. Risk, Ignorance and Imagination.
5. Homo Economicus; Homo Sociologicus.
6. Autonomy.
Part II: Interactive Choice:.
7. Game Theory.
8. Bargaining.
9. Game Theory Applied.
10. Organizations.
11. Cultural Exchange.
12. Anarchic Order.
Part III: Collective Choice:.
13. Social Choice.
14. Democracy.
15. Power.
16. Planning.
17. Agendas.
18. Social Justice.
Keywords.
Bibliography.
Index.
Reviews
"
The Theory of Choice
is a welcome guide to the various permutations of politics, economics and philosophy with game theory, decision theory and social choice theory."
Eric Rasmusen
"The Theory of Choice is an innovative and well-written analysis of issues regarding individual and collective choice." Dennis C. Mueller, Professor of Economics, University of Maryland at College Park
What's New
First text to cover the whole of choice theory
Comprehensive - ranges across rational, social and public choice
Written by and for economists, philosophers and political scientists
Extensive apparatus including boxed material and keywords.