The Therapist's Starter Guide: Setting Up and Building Your Practice, Working with Clients, and Managing Professional Growth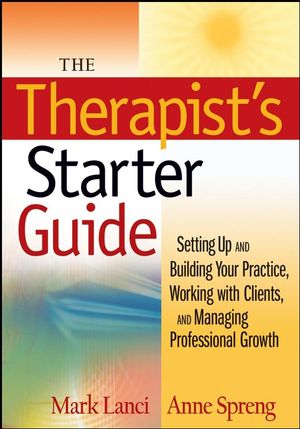 The Therapist's Starter Guide: Setting Up and Building Your Practice, Working with Clients, and Managing Professional Growth
ISBN: 978-0-470-37832-8
Oct 2008
320 pages
Description
Understand all the aspects of beginning and sustaining a therapeutic practice with The Therapist's Starter Guide: Setting Up and Building Your Practice, Working with Clients, and Managing Professional Growth, a practical, hands-on guide to professional fulfillment and business success. If you're a new practitioner or seek to grow your practice, this book will provide you with the skills you need to succeed, thrive and grow professionally and personally. Equip yourself with the knowledge you need to transition to a new job or to begin your own practice.
Preface.
Acknowledgments.
SECTION I SETTING UP AND BUILDING YOUR PRACTICE.
1 DEFINING YOUR PURPOSE.
What Is the Purpose of Therapy?
The Goals of Psychotherapy.
Relationship-Oriented versus Evidence-Based Therapy.
What Kind of Practitioner Are You?
A Trip to the Therapist's Couch . . . .
Summing Up.
Exercises.
2 ETHICAL ISSUES.
Why Study Ethics?
Ethical Codes.
Practitioner Behavior.
Practicing Outside Your Scope of Practice.
Client Rights.
Summing Up.
Exercises.
Resources.
3 LEGAL ISSUES.
Confidentiality.
Tarasoff v. Regents of the University of California.
Duty to Warn.
Duty to Report.
Confidentiality and Working with a Minor.
Record Keeping.
Dealing with Licensing Boards.
What Is Malpractice?
The Difference between Supervision and Consultation.
Receiving a Subpoena.
Summing Up.
Exercises.
Resources.
4 THE IMPORTANCE OF DOCUMENTATION: USING CLIENT CHARTS TO KEEP CARE FOCUSED.
Who Will See Your Charts?
Before the Client Arrives: Getting Your Files Ready.
Summing Up.
Exercises.
Resources.
5 ESTABLISHING YOUR PRACTICE.
Creating a Professional Identity.
Developing Specialties.
What Will You Charge?
Developing Peer Consultation.
Generating Referrals.
Working with Insurance Companies.
Time Management.
Your Physical Space.
Trends on the Horizon.
The Use of Technology.
Summing Up.
Exercises.
Resources.
SECTION II WORKING WITH CLIENTS.
6 THE THERAPEUTIC RELATIONSHIP.
What Makes the Counseling Relationship Different?
Establishing Rapport.
Carl Rogers and the Therapeutic Relationship.
John Norcross and the Division 29 Task Force.
Summing Up.
Exercises.
7 HOW WILL YOU INTERACT WITH THE CLIENT?
Motivational Interviewing.
Client Satisfaction.
Creating a Sense of Hope.
Eliciting the Client's Concerns.
Developing Collaboration with the Client.
The Quest for Why: Insight versus Behavior Change.
Setting Realistic Treatment Expectations.
Summing Up.
Exercises.
Resources.
8 UNDERSTANDING THE CHANGE PROCESS.
Prochaska's Model of Change.
The Processes of Change Model.
Assessing Stages of Change and Matching Interventions.
The Stages of Change Model.
Understanding Clients' Learning Styles.
Locus of Control.
Learned Helplessness and Learned Optimism.
Secondary Gains.
Unconscious Motivations.
Mental Wellness—What Is It?
Summing Up.
Exercises.
9 BEGINNING TREATMENT.
Determining What the Client Wants.
Recognizing Pathology.
Taking a Comprehensive History: The Structured Interview.
Setting the Stage for Treatment: Accurate Diagnosis.
Assessing Functional Impairments and Functional Goals.
Case Conceptualization.
Setting the Stage for Treatment: Focused Treatment Planning.
Summing Up.
Exercises.
Resources.
10 THE MIDDLE PHASE OF TREATMENT.
Frequency of Sessions.
Modality.
Setting Up Time Frames.
Working with Client Strengths and Exceptions.
Identifying Intervention Points.
Client Behaviors That Interfere with Therapy.
Practitioner Behaviors That Interfere with Therapy.
The Two Sides of Catharsis.
Transference and Countertransference.
Reexamining Goals.
What to Do When Therapy Isn't Working.
Iatrogenic Effects of Therapy.
Working Toward Termination.
Summing Up.
Exercises.
Resources.
11 ENDING TREATMENT.
Helping Clients Live Life between Sessions.
Positive Termination Strategies: How to Know When You Are Done.
Setting Up a Relapse-Prevention Plan.
The Importance of the Final Session.
Incomplete Endings.
Summing Up.
Exercises.
12 WORKING WITH COMMON THEMES.
Self-Esteem.
Core Beliefs.
Working with Resistance and Avoidance Behaviors.
Forgiveness and Acceptance.
The Role of Laughter and Humor.
Summing Up.
Exercises.
13 WORKING WITH CHALLENGING CASES: CHEMICAL DEPENDENCY AND PERSONALITY DISORDERS.
Treating Clients with Active Chemical Dependency Problems.
Axis II: Personality Disorders.
Introduction to Dialectical Behavior Therapy.
Summing Up.
Exercises.
14 MANAGING ADVERSE EVENTS.
Crisis Intervention.
Hospitalization.
Suicidal Ideation and Intent.
Postsuicide Review.
Summing Up.
Exercises.
Resources.
15 UNDERSTANDING MEDICATIONS AND THE ROLE OF MEDICAL CONDITIONS.
Understanding Medications.
Neurotransmitters.
Types of Medications.
Working Effectively with Prescribers.
Medication Emergencies.
Mind-Body Interactions.
Summing Up.
Exercises.
Resources.
SECTION III MANAGING PROFESSIONAL GROWTH.
16 PROFESSIONAL GROWTH THROUGH PERSONAL MANAGEMENT.
Creating a Professional Identity.
Mentorship.
Dealing with Burnout and Vicarious Trauma.
Developing Core Characteristics.
Clients' Influence on Your Development.
Finding Your Niche: Generalist or Specialist?
Summing Up.
Exercises.
Resources.
References.
Subject Index.
Author Index.
"...is one of the most comprehensive books out there that I've seen on this subject. The guide offers a collection of tools and information for those new to private practice issues and is a valuable reference and reminder for veteran practitioners. I find it refreshing for a handbook to exist that combines coverage of professional growth, working with clients, and setting up a private practice in a single volume. All in all, this is a helpful resource for social workers in private practice, as well as educators and students interested in this area." (
The New Social Worker
, Winter 2009)
"The Therapist's Starter Guide meets a professional need for the postgraduate student interested in private practice... instructive and informative... pragmatic and filled with welcomed "how tos"... provide(s) an excellent detailed discussion along with helpful exercises" and "emulates the mentoring style often imbedded in productive supervision." (Research on Social Work Practice, September 2009)
"The Therapist's Starter Guide is highly recommended for experienced clinicians who are ready to branch out and diversify their professional efforts. In addition, this book will prove useful to those who are thinking about a career in the helping professions and taking the long view of their own vocational trajectory." (Counseling Today, September 2009)
The first guide to cover all aspects of therapeutic practice, including developing and maintaining client relationships under managed care; understanding the business side of therapy; and professional development.

Provides an introductory explanation and framework for evidence-based practice, useful to clinicians at all levels.
A practical primer on the ins and outs of working within managed care environments, giving students and new practitioners the skills they need to navigate this difficult landscape.

A great resource for people just starting out in therapy, graduate students, or mid-career clinicians looking for a refresher.

Includes relevant case studies and self-test questions.